A 1.2-mile link between JFK Boulevard and Cable Beach opened November 30 in ceremonial fashion as vintage cars made the inaugural drive along its length as part of Bahamas Speed Week Revival 2012.

The new 4-lane thoroughfare, currently known as Corridor 7, provides a north-south link across New Providence.
Colin Higgs, permanent secretary, Ministry of Public Works, was first to test the new road as the passenger in a car driven by racing legend Sir Stirling Moss, honorary patron of Bahamas Speed Week. Other officials, Baha Mar executives and the media followed in other participating cars.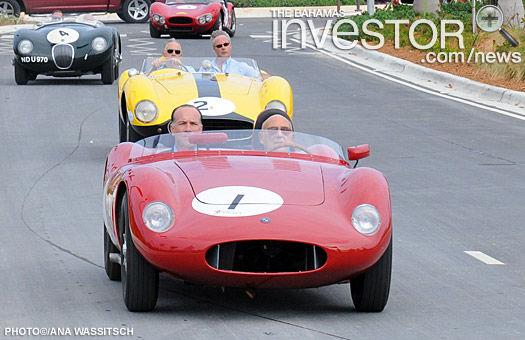 In car No. 1–legendary racing car driver Sir Stirling Moss, honorary patron for Speed Week, with Colin Higgs, permanent secretary, Ministry of Public Works, in the passenger seat. In car No. 2–UK driver David Cottingham with Baha Mar executive Phil Robinson. (Photo by Ana Wassitsch)