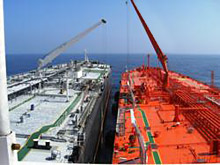 SPT ship to ship – vessels maneuver alongside to execute oil transfer.
This latest deal reflects SPT's world-class status as provider of choice for marine cargo transfer solutions in the
Caribbean.
Houston, TX (PRWEB) April 26, 2012 – This April, SPT Inc's President Simon Duncan signed an initial deal with Cayman Island's Premier Bush to revive crude oil lightering offshore Cayman Brac. This follows new ship to ship transfer capability announced last year in the Bahamas for SPT, building on its permanent ship to ship transfer location in its southern Caribbean base at Aruba.
Simon confirms, "This latest deal reflects SPT's world-class status as provider of choice for marine cargo transfer solutions in the Caribbean. Our outstanding safety record is a crucial determining factor for customers requiring safe ship-to-ship oil and LNG transfer. Sensitive marine environments must be protected and SPT has the vessels, the best resources and above all, the highly skilled people to do this. This is our 33rd year of being the safest, most reliable and efficient ship-to-ship lightering company in the world."

The details of the Cayman arrangements have not yet been finalised, but promise to aid Cayman Brac's economy with the port benefiting from the additional commerce that visiting ships generate such as replenishment of stores and services. Each lightering undertaken provides direct employment of skilled mooring masters, ship's pilots and crew at the port.
The Cayman operation complements SPT's new oil and gas transfer capability just 250 miles north in the Bahamas, strategically located as an eastern gateway to the Gulf of Mexico and just two days' steam to the US Eastern seaboard; as well as SPT's STS base 800 miles south in Aruba, providing a flexible location for oil companies and traders to make deliveries to the US Atlantic Coast, US West Coast, island refineries and storage in the Caribbean and ports in South America, providing advantage of economies of scale for customers to utilize larger ships including VLCC's and ULCC's, trading cargo to or from the US Gulf and the Caribbean markets.
SPT has an outstanding safety record and currently performs service for clients such as Valero, BP, and Shell. The company provides all the necessary personnel, equipment, vetting and expertise including Mooring Masters, Mooring Master Assistants, and equipment including OCIMF recommended fendering – Yokohama fenders with aircraft tire caging for optimum hull protection as standard, in addition to state of the art Yokohama Seaflex cargo transfer hoses for clean and dirty cargo transfer.
Kevin Lenz, SPT Vice President of Commercial states, "Our STS capability will now span the Caribbean and provides three ideal STS locations suitable for all ship sizes year-round with naturally sheltered waters and temperate climates, perfect for clients needing to blend, break or consolidate clean and dirty cargoes and minimising deviation for vessels in transit; customers can easily access our services, lightering equipment and personnel along the most widely traded shipping lanes providing significant cost savings. The addition of Cayman Brac to our existing and successful bases in Aruba, and the Bahamas aligns well with our vision of providing our customers safe and reliable STS services in emerging markets and further diversifying our global portfolio."
The company provides rapid response time and high flexibility through ownership of 5 lightering support vessels (LSVs) in the America's Region. The customized LSVs carry two full sets of lightering equipment ensuring availability of 10 sets of waterborne gear every day.
US Gulf STS is undertaken at Corpus Christi (27º 46'N 096º 25'W), Galveston (28º 35'N 094º 15'W), South Sabine (28º 30'N 093º 40'W), South Tex (27º 48'N 094º 42'W), Southwest (28º 17.5'N 090º 32'W), Pascagoula (29º 45'N 088º 17'W), and on the West Coast at JOPLA (32º 00'N 119º 30'W).
All operations are conducted according to SPTs'operational standards, which exceed those required by the U.S. Coast Guard and OCIMF. For more information, please call Kevin Lenz at SPT (+1 713 266 8000) or visit http://www.sptmts.com
Boilerplate information:
SPT Inc is a fully dedicated ship to ship (STS) cargo transfer company operating with global reach and provides fully certified, ship-to-ship and ship-to-shore transfer solutions, backed by 33 years transfer experience.
In the last 20 years, SPT has performed more than 12,500 STS (lightering) operations, transferring over 8 billion barrels of crude oil, petroleum products and LNG (liquefied natural gas). On a daily basis, SPT transfers 1.1 million barrels of crude a day, or 15% of all seaborne crude oil into US ports.