The Islands of the World Fashion Showcase (IWFS warning: website audio) will kick off next month, with the newly rebranded event set to take place May 11-12, at the Sheraton Nassau Beach Resort.
After a one-year hiatus, IWFS is ready to re-launch with an opening show expected to rival other international fashion events.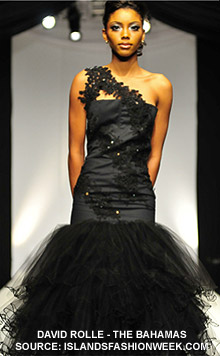 Ten designers representing five countries have confirmed their participation.
They include Bahamians Chelsea Johnson, Courtney McIntosh, David Rolle, Harl Taylor Bag, Latoya Hanna-Moxey and Theo Sealy.
Guyana's Carol Fraser, Sharleen Logan from St Lucia, Kimon Baptiste of St Vincent and The Grenadines, and Darcel de Vlugt from Trinidad and Tobago will also exhibit their designs.
"It's our hope to take IWFS to the next level in fashion and the first step is to align the showcase with the industry itself," says Indira Moss, IWFS production manager. "By hosting two shows each year the designers have the opportunity to get their designs and products on the market in a timely fashion. By doing this, we are ensuring that each designer will get the maximum exposure they need to properly produce for a potentially wider market."

In 2010, a 30-minute segment of the event was aired in Florida, New York and across the Caribbean. This year, the event is poised to widen its international market with a one-hour television show to be aired in August on international networks throughout the United States, Canada, the Caribbean and Australia.
This latest development is being made possible through an IWFS partnership with Creative Entertainment Management (CEM) based in Los Angeles, California.
"I am confident that this will help thrust IWFS to where it needs to be–competing with larger shows," says Moss.
tblair@dupuch.com