Philip Edward Davis officially took the oath of office and received his instruments of appointment as the country's Deputy Prime Minister and Minister of Works and Urban Development May 9 in a ceremony presided over by Governor General Sir Arthur Foulkes.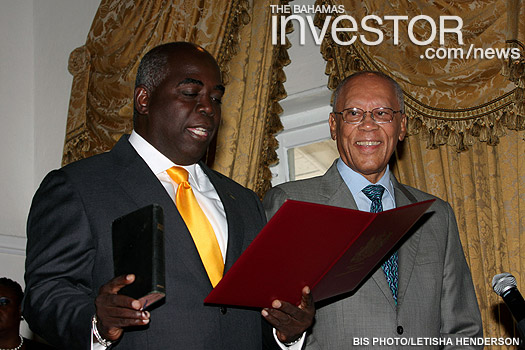 Philip Edward Davis takes the oath during a ceremony in the ballroom at Government House on May 9. (BIS Photo/Letisha Henderson)
In brief remarks, Minister Davis said he is grateful to be a part of a new direction that leads to opportunity for all Bahamians.
"This opportunity comes from an innate belief in the potential of the Bahamian people to rise to the challenge, to prepare themselves and to work hard to achieve for themselves and their families," he said.
Davis is the Member of Parliament elect for Cat Island, Rum Cay and San Salvador.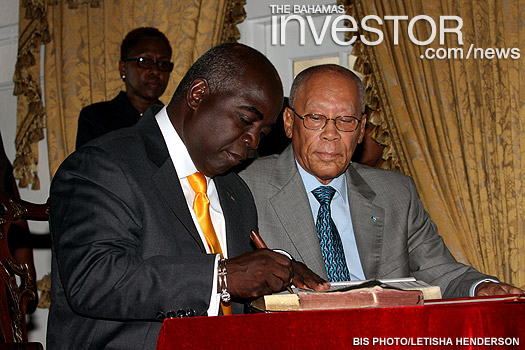 Philip Edward Davis (left) signs documents during a ceremony to mark his appointment as Deputy Prime Minister and Minister of Works and Urban Development as Governor General Sir Arthur Foulkes looks on. (BIS Photo/Letisha Henderson)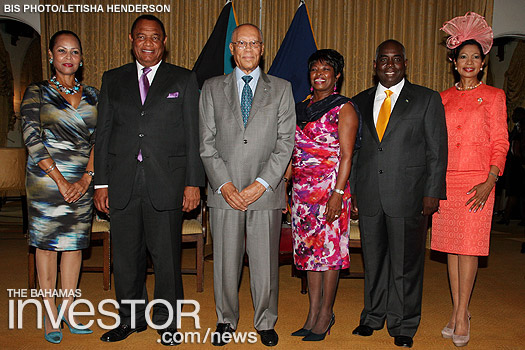 From left: Bernadette Christie, wife of Prime Minister Perry Christie; Prime Minister Christie; Governor General Sir Arthur Foulkes; Lady Foulkes; Philip Edward Davis; and Ann Marie Davis, wife of Minister Davis. (BIS Photo/Letisha Henderson)