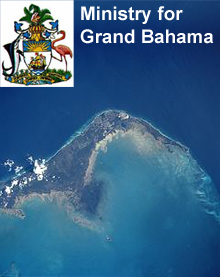 During his presentation of the 2012/2013 Budget Communication on May 30, Prime Minister Perry Christie said that the government has created the Ministry for Grand Bahama to address that island's needs. The Prime Minister said the mandate of that ministry is to ensure Grand Bahama receives the maximum benefits from all government initiatives.
Prime Minister Christie said the ministry will develop proposals for the extension of duty-free concessions to east and west Grand Bahama.
Michael Darville has been named Minister for Grand Bahama.

"The Minister for Grand Bahama will engage in wide-ranging discussions with the various stakeholders in Grand Bahama, as well as with other government ministries to advance our priority of restoring the economy of Grand Bahama."
"This will entail an evolving process as we go forward and the ministry's organization and budget allocation will evolve and grow accordingly."
The Prime Minister stressed that in this budget, the government is immediately implementing certain tax measures to promote the revitalization of Grand Bahama.
For existing properties in Grand Bahama, the hotel occupancy tax is being reduced by 50 per cent for five years for all properties filing returns under the newly introduced electronic reporting system.
"To assist in ensuring the success of new hotels, the hotel occupancy tax will likewise be reduced by 50 per cent for 10 years after opening."
Prime Minister Christie said to access these concessions, it will be necessary for a hotel to register online with the new electronic reporting system, as is required of all hotels in the country.