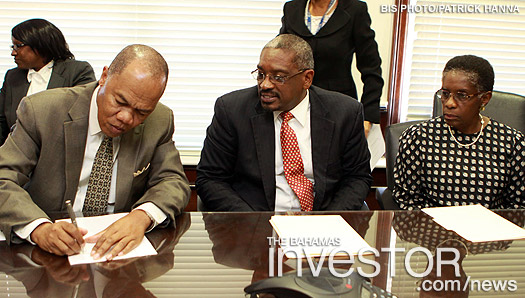 Pictured: (from left) Herbert Brown, Managing Director Public Hospitals Authority; Dr. Hubert Minnis, Minister of Health; and Veta Brown, Chairman Public Hospitals Authority. (BIS Photo/Patrick Hanna
Officials of the Public Hospitals Authority (PHA) say the acquisition of the Island Palm Hotel on Grand Bahama on March 28 is expected to "significantly impact" the delivery of quality healthcare in Grand Bahama in the northern Bahamas.
The Island Palm Hotel was acquired at a cost of $1.9 million and is expected to pay "almost immediate" dividends in the delivery and expansion of healthcare in the northern region.
The acquisition will allow PHA officials to increase bed capacity at the Rand Memorial Hospital. The Island Palm Hotel sits adjacent to the Rand Memorial and plans are already underway to transfer the Rand Memorial's cafeteria services to the former hotel.

It will also allow PHA and Rand Memorial officials to expand a number of critical areas such as laboratory services and facilitate the use of tele-radiology as part of the tele-medicine thrust in the future.
PHA Managing Director, Herbert Brown, said the transfer of cafeteria services from the Rand Memorial Hospital to the Island Palm Hotel, will allow Rand Memorial officials to use the area currently set aside for cafeteria services to facilitate additional treatment and bed capacity.
"We want to be able to increase our bed capacity from 82 to at least 150 beds and that would also mean that we would want to include some private beds because there are those who – when they are admitted to hospital – would want privacy and they would want private rooms and so it our intention to add some private rooms," said Brown.
"The acquisition will further allow us to expand and upgrade the lab to the standard of today's world and expand and upgrade the Radiology Department. This is one critical area of our service, as there are plans to include tele-radiology," Brown added.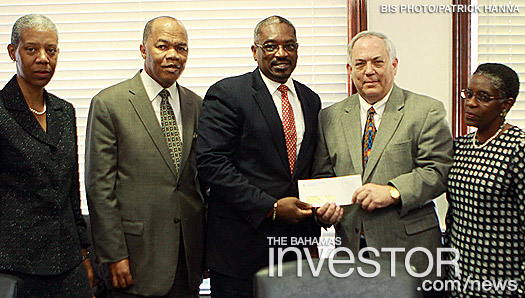 Picture: (left to right) Catherine Weech, administrator, Grand Bahama Health Services; Herbert Brown, managing director, Public Hospitals Authority; Dr Hubert Minnis, Minister of Health; Legal counsel and general manager Palm Investment; Mike Kennedy; and Chairman of Public Hospitals Authority, Veta Brown. (BIS Photo/Patrick Hanna) (BIS Photo/Patrick Hanna)