The government of The Bahamas is poised to invest almost $200 million in the infrastructural expansion and improvement of the country's hospitals beginning later this month.
The expansion process is expected to take place over a two-year period and will include an $18 million investment in an Electronic Medical Records System; a $17 million investment in upgrades and expansions to the Maternity Ward at the Princess Margaret Hospital that will almost triple the space currently in use by Maternity Ward and Obstetrics and Gynaecology.

Expansions and upgrades to the Accident and Emergency Department at the Princess Margaret Hospital are also on the drawing board that accommodate the implementation of a 24-hour Patient Advocacy Service.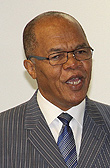 Public Hospitals Authority (PHA) managing director Herbert Brown said September 5 that the planned introduction of a new Health Information System will allow public health officials to address one of the significant areas of transformation in the public healthcare system.
The new system will provide the PHA with the opportunity to be able to track every pharmaceutical item – from distribution from its new main warehouse (to be established on Shirley Street) to the hospitals or any other point of dispensing to patients.
"This will allow us to top-up the minimum order level of drugs without having to wait for a request from the wards or clinics," Brown said. "To carry out this agenda, a new pharmaceutical top-up unit will be established at the Princess Margaret Hospital and subsequently at the Rand Memorial Hospital resulting in a more efficient method of maintaining the required inventory."
Brown said the contract for the upgrades and expansions to the Maternity Ward at the Princess Margaret Hospital is expected to be executed within the next two weeks and that the works are expected to result in significant benefits to the delivery of patient care at the country's tertiary public healthcare institution, while further improving medical outcomes.
The expansion and upgrades will also allow for the construction of two additional state-of-the-art operating theatres.