Minister for Grand Bahama Michael Darville on September 5 met with cruise industry officials, with a view of helping to grow the industry on Grand Bahama and eyeing potential job opportunities for locals onboard the various cruise ships serving the island.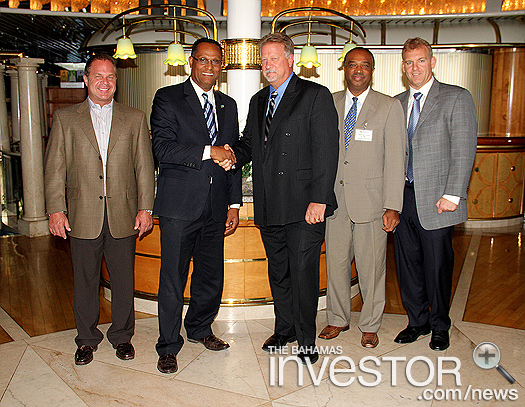 Minister for Grand Bahama Michael Darville meets with top executives of Celebration Cruise Line September 5. Pictured left to right are: James Velrillo, Celebration Cruise Line; Darville; Charles Kinner, president of Celebration Cruise Line; Melvin Seymour, permanent secretary at the Ministry for Grand Bahama; and Daniel Lambert, Celebration Cruise Line.
Darville spent Wednesday morning meeting with executives of Celebration Cruise Line, including company president Charles Kinner. The Celebration sails four times weekly between Grand Bahama and West Palm Beach, Florida.

The company announced that this year they will have provided over 50,000 room nights and will have landed 200,000 passengers on Grand Bahama.
Minister Darville described his meeting with the top management of the cruise line as being "excellent."
"We are very pleased to know that the Celebration Cruise Line is committed to the island of Grand Bahama and the future growth and development of what we are trying to accomplish here," the Minister said.
Darville also stressed that his Ministry and the Ministry of Tourism are in the process of redefining the model for tourism on Grand Bahama and see Celebration Cruise Line as a key part of that model.
Minister Darville said he firmly believes that more Bahamians can play a role in the cruise ship industry, by working onboard the various ships that call at the Lucayan Harbour or elsewhere in The Bahamas.
He said that Bahamians working on the vessels could serve two purposes, firstly to learn the industry, and secondly to serve as ambassadors onboard the various ships.
Celebration president Charles Kinner said that with the new government in place, his company was looking to the future with even greater enthusiasm.
He said that through recent meetings with the Minister of Tourism, Obie Wilchcombe, Darville and tourism director general David Johnson, they have been assured of continued government support through instant rebates for hotel stays and joint marketing efforts.
"Celebration Cruise Line also understands that we too must invest in the future of the island, because we are now a part of this island and our futures follow the same course," he said.
The Celebration executive also announced that his company had signed a new two-year contract with the Grand Lucayan Resort.
He said they are also seeking new and diverse ways to create more activity and revenue flowing through the island.
"Whether it is working with the government to achieve common goals, providing room nights to the hotels and resort, or planning for the future through time shares, Celebration Cruise Line is proud of our ever growing relationship with the government, businesses and people of Grand Bahama," he said.