Seventeen MBA students graduated from The College of The Bahamas (COB) last week with skills in entrepreneurship and innovation, leadership and financial decision making.

The graduates are the first to have earned a Master's degree from COB.
"When you train these MBAs and send them out, they can do research, applied research, so that they can advise the government and other key decision makers. We need to rely on the expertise here at COB, through research, to inform nation building and national growth," says Marc Ingraham, an economist at the Ministry of Transport and Aviation's Road Traffic Department.
Research was a critical component of the MBA programme at COB, with all of the graduates completing case studies. The 18-month programme for working professionals is specially designed for the Bahamian context and all 17 graduates are trained researchers capable of driving innovation in their respective industries.
"What we really want to do is use these cohorts as a laboratory for creating leaders who can drive national development, certainly from the business economic standpoint of the country," explains interim director of graduate programmes at the college, Keithley Woolward.
"There is one example of a student whose final project had to do with revamping the financial systems of an institution and she was able to institute that in her job and those recommendations were then picked up for The Bahamas and are now moving forward in terms of a regional platform for synthesizing financial management processes within that industry," he adds.
Among the graduates is managing director of RBC-FINCO Tanya McCartney.
"This MBA cohort realizes that there is an opportunity within all of the challenges that we as a people face for us to use leadership, entrepreneurial studies and decision-making skills that we now have to transform the organizations within which we work and the country as a whole," she says.
The college launched the MBA, its first graduate degree programme offered independently of any collaborating university, in 2010. Since then, the institution has added a second Master's degree programme–Master of Science in Reading with a concentration in Inclusive Education.
Developments such as these have strengthened the momentum for the transition of the college to a university, which is expected by 2015.
COB president Betsy Boze says these graduates will be recognized as the leaders who helped to shape the future of graduate programmes at the institution.
"It is right and fitting that these Bahamians were able to stay in The Bahamas to earn this degree from a Bahamian tertiary institution. Previous programmes have been offered in partnership with US and Canadian universities, but this degree is uniquely ours and history is being made as these students achieve their educational aspirations," she says.
The MBA graduates have already demonstrated that they will continue to be marked by excellence. Director of accounting at The College of The Bahamas Marlo Murphy-Braynen achieved the Franklyn R Wilson Award for Excellence in Graduate Research awarded to the graduate who has contributed to the body of knowledge that impacts the work place and the country.
Claudia Campbell, assistant manager financial control and planning at RBC Royal Bank of Canada was awarded the RBC, Royal Bank (Bahamas) Ltd, Graduate Award for Academic Excellence for achieving the highest grade point average.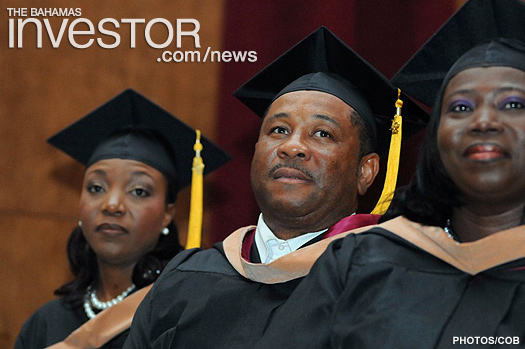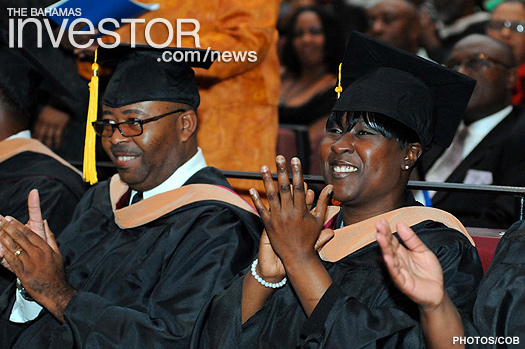 MBA graduates. (Photo/COB)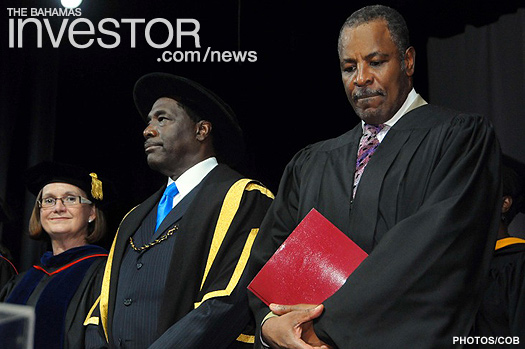 (From left) College president Betsy Vogel-Boze; college council deputy chair, Earl Cash; and guest speaker Franklyn Wilson, chairman of Sunshine Holdings Ltd. (Photo/COB)