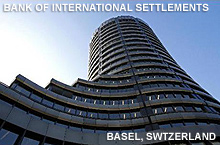 The Basel Committee on Banking Supervision is set to release its latest incarnation of the Basel banking regulations, Basel III, in 2013 and the Bahamas Institute of Financial Services (BIFS) is urging the financial community to keep abreast of the changes.
The BIFS hosted a one-day seminar on the regulations this week and president Kim Bodie told attendees: "We are living in an environment where there are constant changes in financial services. Here we are again, talking about a new set of guidelines and laws that govern us."

Basel III is being introduced to improve regulation, supervision and risk management in banking globally. It aims to safeguard against further economic upheaval by setting liquidity and leverage thresholds. The regulation will be implemented from January 2013 and will raise the minimum common equity requirement from 2 per cent to 4.5 per cent, as well as requiring banks to hold a capital conservation buffer of 2.5 per cent.
Keynote speaker at the event, Cassandra Nottage, manager of the Bank Supervision Department of the Central Bank of The Bahamas, outlined the policies enacted by Central Bank to ensure the country's banking industry had adequate risk management tools in place.
She stressed that it was particularly important for The Bahamas to be seen as a low-risk jursidiction, saying: "We are always being looked at. Offshore financial centres are of particular interest to the big players and we always have to be at the cutting edge of what is going on."
She also said that Central Bank was working with the industry to educate it on how to incorporate the Basel guidelines into everyday practices. "We have communicated with the commercial banks in a very strong manner about Basel III. They are aware of it, so they can start making adjustments."
The "Towards Basel III" seminar took place at the British Colonial Hilton, Nassau, and other speakers included the general counsel of the Grand Bahama Port Authority and commerical lawyer Tyrone Fitzgerald, as well as CFAL vice president Kevin Burrows.
cmorris@dupuch.com