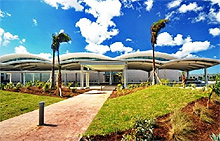 NASSAU, Bahamas (Associated Press) — A new international terminal has opened at the largest airport in the Bahamas as part of a $409 million project.
The 226,000-square-foot terminal at Nassau's Lynden Pindling International Airport opened Tuesday.
A new U.S. departures terminal opened in March 2011, while a new domestic and international departures terminal and a domestic arrivals terminal is scheduled to open in late 2013.
The additions will allow the airport to handle 5 million passengers a year, up from 3 million. The airport also will be able to accommodate 12 U.S. aircraft, compared to the current five. It also will have six new positions available for international aircraft.
Nearly 774,000 tourists visited the Bahamas through June of this year, a 4.3 percent increase from the same period last year.