Coastline Construction has won a $12 million contract to construct a new community hospital in Marsh Harbour.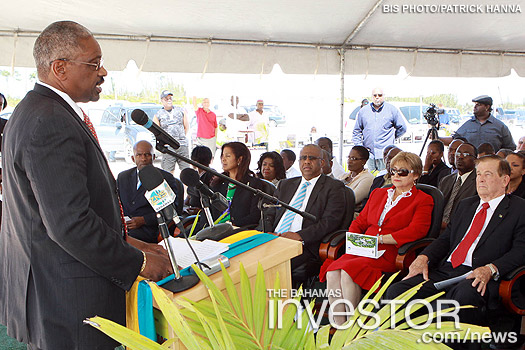 Minister of Health Dr Hubert A Minnis addresses attendees at the contract signing. (BIS Photo/Patrick Hanna)
The Abaco Community Health Care Facility, which is expected to be completed by mid 2013, will pave the way for specialised medical services to become available in the area and bring highly trained staff to the Family Island.
Speaking at the groundbreaking and contract signing ceremony, Minister of Health Dr Hubert A Minnis said: "Through the Public Hospitals Authority, the facility will provide improvements and advancements in tele-medicine and tele-radiology for this area; it will allow for the rotation of specialists in New Providence to Marsh Harbour, while also allowing for the bridging and expansion of electronic medical records, numerous outpatient surgical procedures and expanded ante-natal care delivery.

"All residents of Abaco, including those who presently access private health services will benefit from the new and expanded services this facility will provide."
Dr Minnis also commented on the ability of the new hospital to lighten the load for hospitals in New Providence, saying: "Having bed space at the facility will also remove some of the burden off the Princess Margaret Hospital and Rand Memorial Hospital as residents will not have to travel to those facilities for certain surgical procedures.
"They can have it done right here at home while receiving specialist treatment as part of the Public Hospitals Authority network," he continued.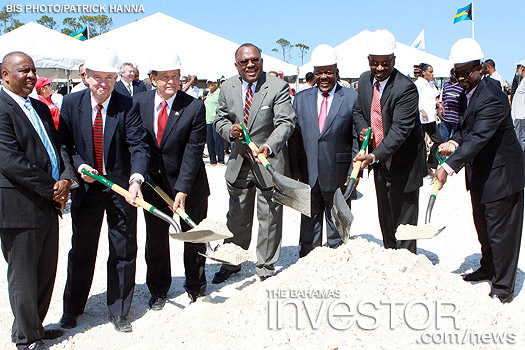 Representatives from the Government and Coastline Construction gathered to celebrate the groundbreaking. Pictured from left are Algernon Cargill, Director, National Insurance Board; Keith Knox, President Coastline Construction; Edison Key, MP South Abaco; Minister of Works Neko Grant; Prime Minister Hubert Ingraham, Dr Minnis, Minister of Health; Patrick Ward, Chairman, National Insurance Board. (BIS Photo/Patrick Hanna)