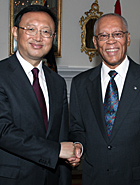 (Photo) Sir Arthur Foulkes, Governor General, right, poses for an official photo with Yang Jiechi, Minister of Foreign Affairs of the People's Republic of China, during a courtesy call at Government House October 21, 2011. (BIS Photo/Derek Smith)
NASSAU, The Bahamas – Ties between The Commonwealth of The Bahamas and the People's Republic of China were further strengthened last week during the visit of Yang Jiechi, Minister of Foreign Affairs, October 20-21, 2011.
Yang paid courtesy calls on Sir Arthur Foulkes, Governor General at Government House, and the Prime Minister Hubert Ingraham. Acting Minister of Foreign Affairs and Minister of National Security Tommy Turnquest hosted a welcome luncheon at the Balmoral Club.

During his welcome address, Turnquest spoke to the "fruitful" exchanges and cooperation conducted between both countries in the political, economic and cultural fields.
"Bahamians have benefitted from China's generosity through scholarships, training courses and technical cooperation. Additionally, the trade volume between both countries continues to grow annually, at the benefit of both countries," he said.
"As a nation, we are deeply appreciative of China's continued confidence in The Bahamas. Strategic investments in tourism, as well as those being developed in agriculture and fisheries, aim to assist The Bahamas in developing a more diversified and balanced economy, and to further facilitate mutual and joint investment for both economies," he added.
Turnquest went on to acknowledge that the construction of the national stadium at the Queen Elizabeth Sports Centre, the gateway project at the Lynden Pindling International Airport and the Baha Mar development on Cable Beach are strong testaments to the trust and confidence China has in the stability of The Bahamas and its further growth and development.
Yang's visit follows that of Wang Qishan, Vice Premier of the State Council of the People's Republic of China on September 10, 2011, during which both governments signed an Economic Technical Cooperation Agreement.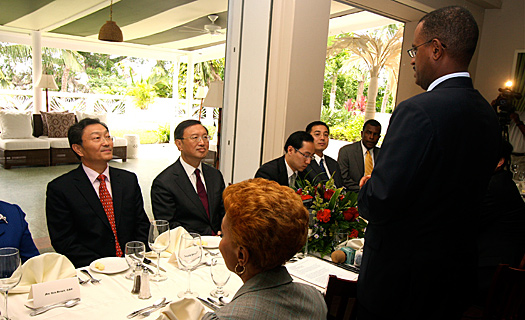 Acting Minister of Foreign Affairs and Minister of National Security Tommy Turnquest, right, addressing a welcome luncheon in honour of the visit of Yang Jiechi, Minister of Foreign Affairs of the People's Republic of China October 21, 2011, at the Balmoral Club.
(BIS Photo/Kris Ingraham)