The Bahamas government signed an Economic Technical Cooperation Agreement with the People's Republic of China this week, bringing the total value of bilateral technical agreements between the two countries to around $30 million.
Wang Qishan, Vice Premier of the State Council of the People's Republic of China, arrived in Nassau last weekend to meet with Deputy Prime Minister Brent Symonette and discuss grant funding for projects in The Bahamas. The agreement, which was officially signed at a ceremony at Atlantis Paradise Island, allows for up to $5 million in funding to support infrastructure projects.
Speaking at the signing ceremony Vice Premier Wang Qishan said: "China values its friendship with The Bahamas and we stand ready to have even closer high-level exchanges deepened in practical cooperation in the various fields.
"[We want to] make sure there is a favourable environment for the execution of projects."
China has already invested heavily in The Bahamas–providing a $58-million loan for the Nassau Airport Gateway project, the $30 million Thomas A Robinson Stadium and a $2.4-billion loan from the Export-Import Bank of China for the Baha Mar development on Cable Beach.

According to statistics from the Chinese General Administration of Customs, bilateral trade volumes between China and The Bahamas reached $628 million in 2010. The countries are set to foster even closer ties in the future through agreements on infrastructure, finance, tourism and agriculture.
After visiting Nassau, Vice Premier Wang Qishan is travelling to Trinidad and Tobago to attend the 3rd China-Caribbean Economic and Trade Co-operation Forum. Representatives from The Bahamas are also attending the event, which is titled Development Co-operation, Win for All, and examines how China could invest in partnerships throughout the region.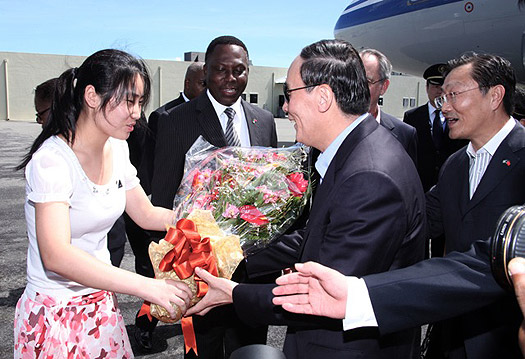 Staff at the Embassy of the People's Republic of China present Vice Premier of the State Council of the People's Republic of China, Wang Qishan, with flowers upon his arrival at Lynden Pindling International Airport. At centre is Ambassador Joshua Sears, Director General, Ministry of Foreign Affairs. (BIS Photo/Kris Ingraham)
Prime Minister Hubert Ingraham and Mrs Ingraham arrive at Atlantis Paradise Island September 10 for the signing ceremony. (BIS Photo/Peter Ramsay)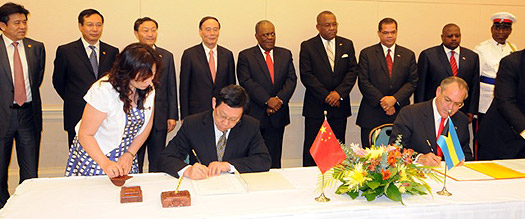 Deputy Prime Minister and Minister of Foreign Affairs Brent Symonette (right) and Vice Premier of the State Council of the People's Republic of China, Wang Qishan, sign an Economic Technical Cooperation Agreement during a ceremony at Atlantis Paradise Island, September 10. (BIS Photo/Peter Ramsay)
cboal@dupuch.com