The existing mega-resort Atlantis Paradise Island and the new $3.4 billion Baha Mar resort should be able to coexist once there is adequate airlift to the country, according to Atlantis operator Kerzner International Bahamas.

"Obviously we are concerned when there is a flood of rooms coming onto the market,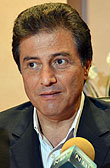 but it's not as big a concern as what we all need to do–ourselves, BahaMar and the [Nassau/Paradise Island] Promotion Board–to make sure our infrastructure is ready to absorb all these additional rooms," said George Markantonis (left) president and managing director at Kerzner International at a press briefing on Monday. "We need to get more airlines coming here, so that the guests who want to come to BahaMar and Atlantis can get here. Otherwise, we will have some issues."
The Atlantis Paradise Island ocean-themed destination resort has 2,317 rooms, a water park, luxury accommodation, a casino, night clubs and tens of restaurants. Since it opened in 1998, it has remained the largest hotel complex in The Bahamas.
However, the Baha Mar development now being constructed on Cable Beach only a couple of miles away from Atlantis on the same island of New Providence has the potential to usurp the existing resort from its position of dominance.
Once completed, the Baha Mar development on Cable Beach will include the largest casino in the Caribbean, five acres of convention and meeting facilities, 20 acres of beach and pool areas and 2,250 new rooms and condos.
To accommodate the glut in supply, Markantonis suggests that the industry as a whole needs to tap new emerging markets and increase airlift.
Pointing to Copa Airlines, Markantonis noted that the non-stop service from Panama to Nassau made "great headway" in bringing new airlift to The Bahamas. The service came on-stream in June.
"The Ministry of Tourism [and Aviation] and the promotion board are very active on this phase of tourism and travel," he said. "Copa Airlines coming direct out of Panama City was a major coup for the country and there are more announcements that have not yet been made, but of which I am aware."
The hotel executive says that language barriers could hinder access to the Latin American market and the resort is considering offering wage incentives for employees willing to learn a second language, such as Spanish. The resort offers lessons on property.
"We have to do something about it, because it's a critical need,"?said Markantonis.
Other efforts are already being made. Key signage at the Atlantis resort will soon have Spanish translations and there will soon be a Spanish version of all the resort's printed material, such as room service menus, the map of the hotel and guest room directories.
Early next year, Markantonis hopes to make an official trip to Brazil along with key government officials.
"We are spending most of our time focusing on countries that already have ease of access. I think Latin America is critical for us," he said.
"We've been told by the Bahamas Hotel Association and the government that the number one nationality of passengers on these Copa flights is Colombian. Panamanian is third. Argentine is fourth or fifth, but Brazilian is at the bottom of the list. We want to work on that. Brazil is a very big country. That's our aim right now."
BahaMar, he says will have the same concerns as Atlantis going forward.
"We still are quite a Goliath, so we are going have to work together," he said.
tblair@dupuch.com