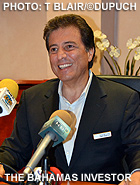 Bookings at The Bahamas' largest resort–Atlantis Paradise Island–continue to climb year on year, president and managing director of Kerzner International Bahamas George Markantonis announced Monday.
"Bookings continue to be strong,"?he said at a press event yesterday. "The good news is that we had an excellent fall season."
The positive turnaround is due to the air credit rebates offered by the government to sweeten the pot on hotel packages.
"We've been able to combine the fourth night free programme that we offer with the air credit programme and we've seen very strong bookings,"?said Markantonis.

The resort's programme was due to end this week, but will be extended for another two weeks due to high demand.
So far, November is about 10-12 percentage points higher than last year due to special events and prestigious conferences held at the ocean-themed resort.
The Associated Luxury Hotels International (ALHI) had a meeting at the Paradise Island resort bringing together about 250 of the top meeting planners and hoteliers in North America.
"Every single one of them has just given us huge accolades for the wonderful job our staff and our Bahamian suppliers did,"?Markantonis told press. "Between them they probably account for $1-billion worth of potential meeting business. So, we're hoping that the phones will start ringing in the next few months and we're going to get some good business out of that investment."
The resort's group bookings are reportedly looking "exceptional."
"We will finish the year about 35 per cent ahead of 2010 in actual group room nights,"?said Markantonis.
In 2012, the resort is predicting 18 per cent increase year on year and 2013 is expected to be about 10 per cent higher than 2012.
Other events boosting room nights are big names in entertainment. Last week the resort hosted acclaimed Canada musician Bryan Adams. The event drew 1,600 people. American country singer Brad Paisley is set to perform the first weekend in December.
Additionally, the Battle 4 Atlantis basketball tournament has led to a dramatic increase in room occupancy. Eight teams will participate in the inaugural basketball event set for November 23-27 in the 4,000-seat Atlantis arena.
This year two television networks are expected to provide live coverage for all 12 games of the Division I Men's college basketball to be held at Atlantis.
Dallas Mavericks owner Mark Cuban's HDNet is expected to cover half the games. The men's interest television channel reportedly has a viewership of 20 million.
The sports oriented cable channel Versus, with a 75 million viewership, is expected to provide live coverage for the other half.
"This is going to be 22 to 30 hours of live programming from The Bahamas over the Thanksgiving weekend,"?Markantonis confirmed. "That has got immeasurable value to this destination."
"This has been remarkable for us,"?said Markantonis. "We are now nearly sold out at the Ocean Club and The Cove. We are running in the high 90s [per cent]. We are running at the low 90s in Coral Tower, high 70s in the Beach Tower."
These figures are significant because over the last two years the resort's occupancies rate for Thanksgiving week has been around 53 per cent. The overall occupancy rate for the entire property this Thanksgiving is expected to be around 90-91 per cent.
tblair@dupuch.com