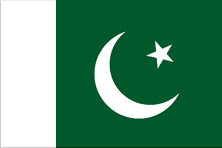 November 7, 2015 (Business Recorder)–High Commissioner Jalil Abbas Jilani presented his credentials to Her Excellency Marguerite Pindling, Governor General of the Commonwealth of the Bahamas as non-resident High Commissioner of the Islamic Republic of Pakistan in an elegant ceremony held at the Government House at Mount Fitzwilliam on Thursday.
High Commissioner Jalil Abbas Jilani, while presenting his credentials to the Governor General, conveyed the greetings and good wishes of the President and the Prime Minister of Pakistan and expressed the desire of the Government of Pakistan to strengthen the cordial ties existing between Pakistan and Bahamas. Jilani emphasised that the co-operation between Pakistan and Bahamas in various multilateral forums including the United Nations and the Commonwealth of Nations have contributed to promoting shared interests of the developing countries in areas of economic development, climate change, peace keeping, trade, tourism and human rights.

High Commissioner Jalil Abbas Jilani expressed his desire to further deepen and strengthen the bilateral relationship between the two countries in the months and years to come. Governor General felicitated the High Commissioner Jilani on his appointment as the non-resident High Commissioner of Pakistan to the Commonwealth of Bahamas and assured full co-operation from her Government to strengthen the relationship with Pakistan.
Source link: Business Recorder.