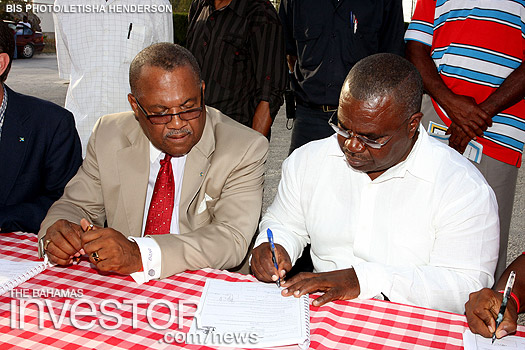 Everette Jackson of San Salvador Painters/Tilers signs the contract as Minister of Public Works and Transport Neko Grant looks on. (BIS Photo/Letisha Henderson)
San Salvador Painters/Tilers will carry out the work under the $587,523 contract which was officially signed this week during a ceremony in Cockburn Town.
The roads project comes after last year's San Salvador District Council report into the state of the island's highway. Following the release of the report, the Ministry of Public Works performed a visual assessment of the roads to confirm what should be done.

The Ministry determined that priority should be given to full reconstruction of the road between the airport to Cockburn Town and Sandy Point, localized repairs on the road north of the airport, drainage works and remedial work to existing drainage culverts.
The project is expected to be completed within 90 days.
"We expect the completed works will be of a consistently high standard, within the agreed timeframe and within budget," commented Minister of Works and Transport Neko Grant.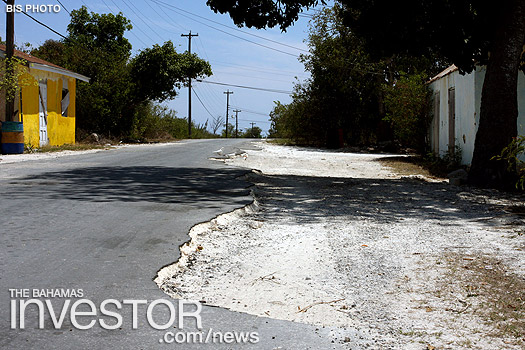 The roads in San Salvador will be reconstructed and repaired under the contract. (BIS Photo)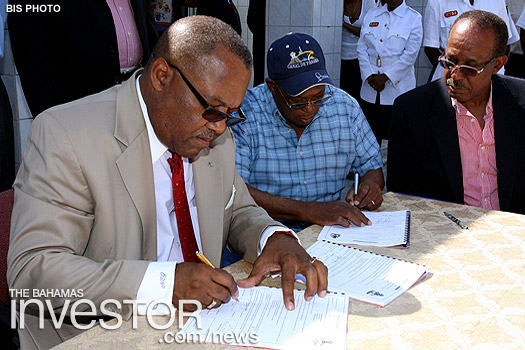 Minister of Works and Transport Neko Grant signs the contract for road repair in San Salvador (BIS Photo)