Source:
Date:
Updated:

PRNewswire
Friday, September 14, 2012
Friday, September 14, 2012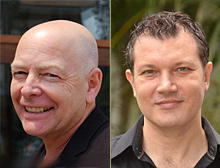 NASSAU, Bahamas, Sept. 13, 2012 /PRNewswire/ — In a move announced today by Internet.bs Corp. (IBS) Founder and CEO, Marco Rinaudo (pictured-right), PPX International group Chairman Gregg McNair (pictured-left), has taken a substantial equity position in IBS and has also been appointed Chairman of the Bahamas based Registrar.
Speaking of the move Rinaudo said, "For some time we have been looking to broaden our horizons and we believe the combination with Gregg will provide market confidence and opportunities which would have taken much longer to realize without his resources and support. Gregg and the quality teams he has built are renowned for their success throughout the wider domain industry and we are genuinely excited at the move.

"In conjunction with Gregg's appointment, IBS has aggressive growth plans going forward. With around 700,000 domains already under management and leading edge technologies, IBS is already among the fastest growing Registrars in the world and we are poised to become the industry's preferred International Registrar with an emphasis on security and privacy. The range of Registrar services will also expand," he added.
"In these times where any domain name is vulnerable to hackers, courts or even Governors, it's difficult to find an International Registrar you can really trust and depend upon as custodian of valuable assets. I have observed and dealt with Marco and his excellent team for many years and I am obviously impressed and welcome the opportunity to build and help shape the future of IBS. Marco runs a great business fully committed to excellence, innovation and to making a difference in our world," said McNair.
Internet.bs Corp. was established in 2004 and is among the fastest growing ICANN domain name Registrars worldwide with around 700,000 domains under management. Serving customers of all sizes from the single domain buyer to the largest domainers.
Internet.bs Corp. is directly accredited for many domain name extensions, including .com, .net, .org, .biz, .info, .asia, .tel, .mobi, .co, .cc, .eu, .be, .tv, .us, .in, .co.uk, .fr, .re, .it, .tf, .wf, .yt, .NL and .DE.
The website http://www.internetbs.net is available in 7 different languages and payments in many currencies are accepted. Customers from all over the world are welcome and have access to instant chat support 24/7. The CEO Marco Rinaudo has been in the domain industry since 1995 and during the late '90 he was running one of the first accredited ICANN Registrars in Europe after the end of the gTLD monopoly.
CONTACT:

Norbert Stocker
Internet.bs Corp

Phone: +1-512-698-0407

Norbert.Stocker@internet.bs
www.internetbs.net