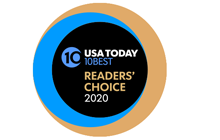 The Bahamas has been nominated for several accolades in the 2020 USA Today Caribbean Readers' Choice Awards.
The Islands of The Bahamas has landed nominations in seven different categories, namely Best Caribbean Beach, Best Caribbean Resort, Best Caribbean Attraction, Best Caribbean Golf Course, Best Caribbean Rum Distillery, Best Caribbean Restaurant and Best Caribbean Beach Bar.
Bahamas Minister of Tourism and Aviation Dionisio D'Aguilar said: "I am extremely proud and excited that The Bahamas has received seven nominations in seven different categories, which is an indication that our destination continues to be competitive in the global market."

"The nominations across so many categories speak to the overall level of guest satisfaction with our tourism product."
The final decision for the winner in each category is determined by online voting which is now open worldwide.
"I encourage all Bahamians and friends of The Bahamas to go online and vote for our destination in the seven nomination categories," said D'Aguilar.
The general public can vote online at www.10best.com/awards/travel from now until February 3, 2020.