Minister of Financial Services, Trade and Industry and Immigration Brent Symonette delivered welcome remarks yesterday to delegates attending the 20th Anniversary Society of Trust and Estate Practitioners (STEP) Conference, a forum for stakeholders in the financial sector.
The two-day event, held under the theme Mind the Gap: Future-Proofing IFCs, is taking place at Baha Mar resort.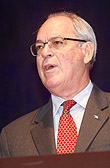 Minister Symonette (pictured) said that the conference offers an excellent platform for prominent political, economic, financial and academic leaders from abroad to discuss their ideas on common issues of concern. He said over the past few years, there have been questions about the future of International Financial Centres (IFCs) and whether they will be able to withstand the pressures imposed by the global regulation and technological advancement.
"It cannot be denied that globalization and the ever-increasing trans-border nature of financial services has highlighted the role that IFCs will play in the future," he said.
He said that the theme for this year's conference aptly addresses what needs to be done in order to ensure the survival of the industry. He explained that as IFCs move to ensure their sustainability in the sector, several factors must be considered: innovation via the use of advanced technology; asset and jurisdictional diversification; and flexibility in the methodology that is adopted in order to meet the needs in an ever-changing environment.
"The Bahamas has shown its commitment to complying with international regulatory standards with the most recent implementation of Common Reporting Standard, our commitment to the BEPS minimum standards, the ongoing EU negotiations and FATF recommendations."
According to Minister Symonette, over the past two years, the government has been able to expand the country's participation in multilateral agreements and has also enacted legislation to comply with those initiatives.