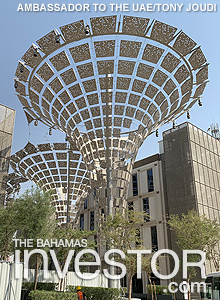 Pictured: The Bahamas Pavilion, designed by The team from the University of The Bahamas. (Bahamas' Ambassador to the UAE and the State of Qatar/Tony Joudi)
The Bahamas' financial services sector hopes to make inroads into the Middle Eastern market with a series of events this month – all of which will lay the groundwork for the country's presence at the Dubai Expo 2020.
The Bahamas Financial Services Board (BFSB) will host a Bahamas Landfall event in Dubai on 18 November, in addition to sponsoring STEP Arabia, as stakeholders assess interest in this new market.
"It is a promotional tour to size up the potential appetite and interest that those players have in The Bahamas," says Patrick Feuz, executive chairman of Gonet Bank & Trust Ltd which will be attending the events. "It will be a crucial to see what the outcome is from this tour. That will lay the foundation for what the BFSB and the Ministry of Financial Services want to do in Dubai."

The Bahamas is one of the participants of Expo 2020, which runs from October 2020 to April 2021. The event is on course to become the largest world fair in history and is the first to be held in the Middle East. So far, 192 countries have signed up to attend and organisers predict that 25 million people will visit the site during the six-month fair.
Gonet Bank & Trust Ltd is a launch sponsor of The Bahamas' Pavilion, donating $200,000 to the two-storey structure which will house interactive exhibits, educational displays and local crafts on the lower floor while hosting a 'Business Embassy' on the upper.
"It is a great concept," says Feuz. "We [sponsored] it because we are convinced of the value this unique platform will present. We think it is a great idea, not just for our own firm but also the financial services sector and the country in general. We believe in it and we are committed. It is a very important initiative."
Feuz believes the Middle East is an untapped market with great potential for Bahamian financial services providers and would like to see more wealth management firms coming onboard to support the Expo 2020 efforts. "If we want to grow and continue to develop the services here, we need to conquer new markets," he says.
"It needs more than one or two banks, it needs the entire business community. We pride ourselves on being a full service jurisdiction, so we have to have a good mix of representatives. The private sector needs to participate.
"This is not just a marketing event, it is really investing in the future of the financial services industry."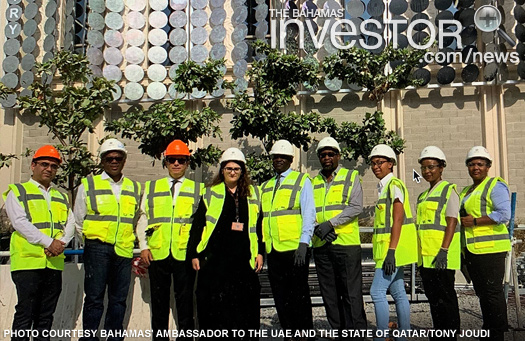 Pictured: The Bahamas team pose in front of the Pavilion. (Bahamas' Ambassador to the UAE and the State of Qatar/Tony Joudi)