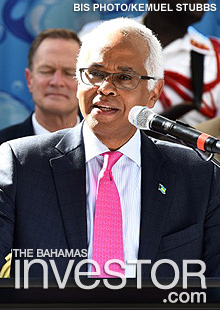 Pictured: Minister of Tourism and Aviation Dionisio D'Aguilar speaks at the event. (BIS Photo/Kemuel Stubbs)
Royal Caribbean International's "newly minted" Symphony of the Seas completed its inaugural voyage to The Bahamas with a call on the port of Nassau November 14, 2018.
Senior government officials, led by Minister of Tourism and Aviation Dionisio D'Aguilar, officials of the Ministry of Tourism and tourism industry stakeholders and partners, were among those on-hand to welcome the Symphony of the Seas to the Port of Nassau.
Minister of Health Duane Sands, Minister of Housing and the Environment Romauld Ferreira, and Minister of the Public Service and National Insurance Brensil Rolle, were among the senior government officials in attendance.

The latest addition to Royal Caribbean International's fleet of cruise vessels, the Symphony of the Seas is being hailed as the largest cruise ship on record, with the capacity to accommodate 6,680 guests.
Tourism officials say the presence of this "new, recording-breaking vessel" in the Port of Nassau speaks to the depth and quality of relationship between the government and Royal Caribbean International, one of the world's leading cruise lines.
More than 25 million people, globally, took cruises in 2017.
In 2017, The Bahamas welcomed 6.1 million air and sea visitors.
RCI vessels and others brought 4.6 million guests to the country's shores, a figure that represents 70 per cent of total visitor count.
Statistics indicate that cruise tourism annually makes an economic impact of over $400 million in the destination, while accounting for some 9,000 jobs in The Bahamas.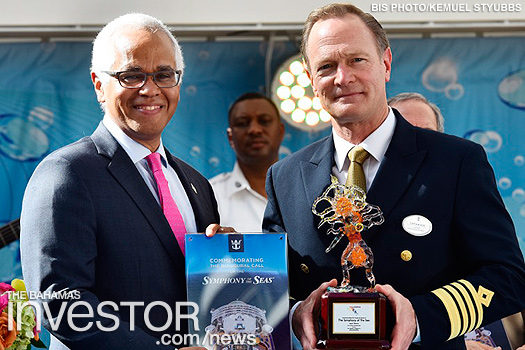 Pictured: Minister of Tourism and Aviation Dionisio D'Aguilars with Symphony of the Seas captain Rob Hempstead during ceremonies aboard ship. (BIS Photo/Kemuel Stubbs)