Source:
Date:
Updated:
Author:
TheBahamasInvestor.com
Thursday, May 24, 2018
Thursday, May 24, 2018
Erica Wells Cox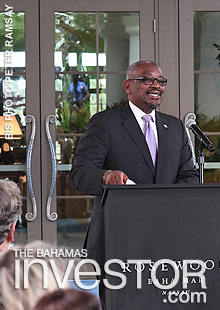 Pictured: Prime Minister, Dr Hubert Minnis applauds Baha Mar's 'Life Spectacular' marketing campaign at the official opening of Rosewood Baha Mar, May 22, 2018. (BIS Photo/Peter Ramsay)
Baha Mar achieved a major milestone on Tuesday with the opening of Rosewood Baha Mar, marking the completion of the mega resort's phased opening that began just over a year ago.
The opening of the luxury Rosewood property has created 450 jobs and brings the total number of rooms, suites and villas at Baha Mar to 2,300.
"Tourism is doing exceptionally well in The Bahamas," noted Prime Minister Hubert Minnis at Tuesday's ribbon cutting ceremony.
The prime minister was referring to recent figures that show an increase in air arrivals and hotel room bookings on Nassau and Paradise Island.

Airlift to The Bahamas has increased substantially throughout the last year, as top airlines add additional direct flight markets, seat count and frequency of flights from the United States and Canada.
Since the opening of Baha Mar resorts, Lynden Pindling International Airport has reported the highest number of passenger arrivals in the last decade.
Baha Mar opened the Grand Hyatt in April 2017 and the SLS hotel in November 2017. Rosewood is the last brand to open its doors at Baha Mar and begins taking paying guests on June 1, 2018.
The Rosewood brand is well known for its sense of place philosophy, which seeks to reflect the architecture, history, culture and sensibilities of a destination.
At Rosewood Baha Mar, which has 237 rooms and suites as well as four luxury beachfront villas, original Bahamian art and British colonial architecture and interior stylings have been incorporated into the design.
"We are elated to announce the completion of Baha Mar and celebrate Rosewood Baha Mar's opening," said Graeme Davis, president of Baha Mar.
Chow Tai Food Enterprises (CTFE), which owns Baha Mar and Rosewood, invested an additional $43 million in the Rosewood property to bring it up to the brand's standards, according to resort officials. CTFE has invested a total of $300 million in the property, on top of the purchase price.
In a report released earlier this month, the International Monetary Fund (IMF) noted that the Bahamian economy grew by 1.3 per cent in 2017 and projected that it will grow even more in 2018. Baha Mar's success is a major contributor to that growth, said the IMF.
Over the next few years, it is projected that Baha Mar will contribute 12% of The Bahamas' gross domestic product.
The entire Baha Mar resort employs around 4,000 associates and is expected to add to that number throughout 2018.
Rosewood Baha Mar features four signature dining venues including Commonwealth, a farm-to-table restaurant; the Pool Grille, al fresco dining pool side; Bar Riva, serving craft cocktails and small plates; and the Library Lounge, offering Bahamian-style afternoon tea and unique tea cocktails.
Other amenities include Sense, a Rosewood spa, salon, barber shop, fitness centre, two private swimming pools and luxury cabanas. Guests will also have direct and private beach access.
Eight meeting and event spaces include a 4,950 sq ft ballroom, meeting room, board rooms, private dining room and two al fresco event areas.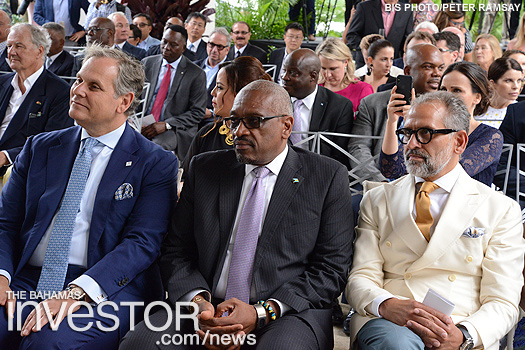 Pictured: At the opening of Rosewood on Tuesday, seated from left: Baha Mar president Graeme Davis; Prime Minister Hubert Minnis; and president of Rosewood Hotels & Resorts Radha Arora. (BIS Photo/Peter Ramsay)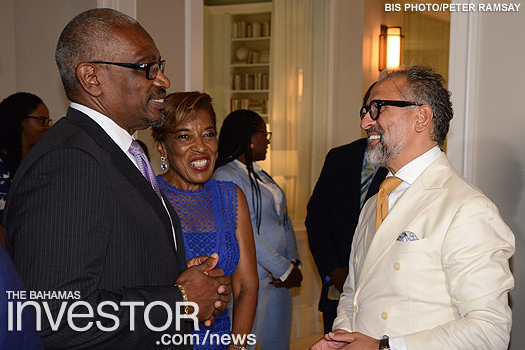 Pictured: Prime Minister Minnis and his wife chat with Rosewood Hotels & Resorts president Radha Arora (right). (BIS Photo/Peter Ramsay)
ecox@dupuch.com