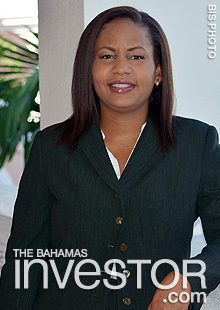 Pictured: Incoming executive director of the Small Business Development Centre, Davinia Blair. (BIS Photo)
The government of The Bahamas has named Davinia Blair as the executive director of the imminent Small Business Development Centre.
Blair's appointment signals the government's commitment to building and supporting the institutional framework and the national support programme for micro, small and medium-sized enterprises (MSMEs).
The centre is the product of a tri-partite arrangement between the Government, the University of The Bahamas and the Bahamas Chamber of Commerce and Employer's Confederation (BCCEC) and the Ministry of Finance. The centre works to guide the development and funding of MSMEs throughout the country.

Deputy Prime Minister and Minister of Finance Peter Turnquest said: "We are excited to have Blair as our executive director, to assist in developing and carrying forward our vision for economic and entrepreneurial development for Bahamians. She will be supported by a team of professionals and will have the necessary resources to ensure the effectiveness and sustainability of the programme, and we anticipate significant results under her leadership."
Through appointments such as Blair's, Turnquest said, the government and its partners are "making tangible investments in both human talent and treasure to facilitate the growth, development and real economic emancipation of the Bahamian people."
The centre will connect to the Caribbean Small Business Development Centre Project, through which the Organization of American States (OAS) is supporting member states of the Caribbean Community (CARICOM) in bolstering their MSME regime.