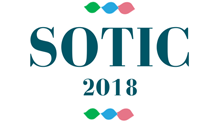 The State of the Tourism Industry Conference 2018 is to be held 2-5 October at Atlantis, Paradise Island.
A California-based television presenter turned wellness enthusiast with strong ties to the Caribbean will host this year's State of the Tourism Industry Conference (SOTIC) in The Bahamas.
The Caribbean Tourism Organization (CTO) has confirmed Santana Rodriguez, the former US television personality and news reporter, as chair of the 2-5 October conference, being organized in collaboration with the Bahamas Ministry of Tourism.

Themed 'Rejuvenate, Recreate, Reconnect – New Directions for Caribbean Tourism', this year's SOTIC at Atlantis, Paradise Island brings together tourism practitioners, policymakers and strategic partners, along with international speakers will provide insight on a wide range of topics that are critical to the growth of regional tourism.
Young people from several CTO member countries will make their contributions to the discussions at a Youth Congress, one of the vehicles through which the CTO encourages the best and brightest to consider tourism as a career.