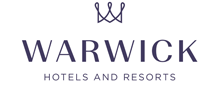 The Bahamas is enjoying a resurgence in tourism, government officials reported over the weekend at the official opening of Warwick Resort, Paradise Island's first all-inclusive, adults-only hotel.
The resort had a soft opening late last year following a change in ownership and a $40-million renovation. Since then, numerous guests have enjoyed its 10,000-sq ft harbor terrace, 240 rooms, three suites, four restaurants and lounge.
Warwick Hotels and Resorts chain, founded by Richard Chiu in 1980, consists of 53 hotels with 9,000 rooms. The figure includes owned, managed and affiliate member hotels and resorts on five continents.

The grand opening brought together a hand-picked crowd of government officials including the Prime Minister and the Minister of Tourism, media professionals, tourism industry stakeholders and prominent members of Bahamian society for a ceremonial ribbon-cutting. The event featured a junkanoo rush-out and a live band.
Chiu and his management team personally greeted guests at the hotel's entrance.
In his remarks, Chiu thanked the government departments that assisted him in turning his vision into a reality. He also praised his "exceptional" Bahamian staff for their experience and expertise.
Tourism Minister Obie Wilchombe addressed attendess saying: "For the many years, we have developed in the [tourism] industry; we have prided ourselves on being the best and we continue to work to prove to the world that it is in fact better in The Bahamas."
"We are seeing the tourism industry grow in The Bahamas. In fact, our tourism industry is expected to grow by 2.8 per cent this year ensuring that our number one industry continues to provide and be the principal earner for GDP."
Wilchombe credited the government with updating The Bahamas' product offerings and tapping into new niche markets, such as religious and sports tourism.
Prime Minister Perry Christie in his brief keynote address said: "We are bearing witness to a resurgence in our tourism industry with the introduction of new upscale properties, properties with global brands and connection. Clearly Warwick is one of them. More and more The Bahamas is turning into an exciting, transformative destination."
To back his assertions, the prime minister pointed to other resort developments such as Island House, Ocean West and Albany, The Pointe and Baha Mar.
"I trust that [Warwick Resort] will become one of your popular hotel destinations and that you will use your best endeavours to ensure that people come to understand that this is a place where they should visit."
Congratulating Chiu and his team on completion of the property's full-scale renovations, Prime Minister Christie said that given the resort's brand reputation and its robust global network he doesn't doubt its continued success in the years to come.
He thanked the developer not only for his investment, but also the symbolic confidence placed in the government and the Bahamian people.
"This is going to be an excellent addition to Paradise Island and an excellent addition to the tourism stock in the Commonwealth of The Bahamas," he said.
tblair@dupuch.com