No society can progress without all of its people moving collectively in a positive direction, Prime Minister Dr Hubert Minnis said last week.
"The Bahamas has many strategic advantages such as talented people, our geographic location, our chain of islands and our political stability and democratic heritage," Prime Minister Minnis said during his inaugural national address aired July 26, 2017.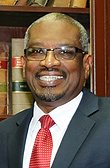 "Approaching our 50th Anniversary of Independence, we should take stock of our many accomplishments while being honest about our political, economic and social failures."
Prime Minister Minnis (pictured) said his administration was "grateful" for the confidence Bahamians placed in them following the General Elections of May 10, 2017.
"We are grateful to have been granted the gift of stewardship over our Family of Islands which constitute one of the most beautiful places on the planet. We accept your mandate with great humility and with a fierce determination to fulfill that mandate to your satisfaction."
"As a people, we have always been blessed with an abundance of talent, way beyond our relatively small population. This includes the Bahamian Diaspora."
The Prime Minister said the government has the solemn duty to create the economic and social environment in which the talents of the Bahamian people can flourish and in which, "we can live in peace and prosperity."
"To reset our national course, we need a new era of reform and transformation. We need to transform (those) mindsets and practices that have not served us well. We all agree that God has blessed us with many gifts."
Prime Minister Minnis said democracy is about dialogue and ongoing conversations about the issues that matter to the people.
He said both he and his ministers of government will hold dialogue with all of its citizens in order to help shape public policy.
"It is essential that ministers and Parliamentarians listen carefully and with humility to the people we represent. Now you will understand more clearly why you will hear me speak about we and us. No government can succeed without the people," Prime Minister Minnis added.