Prime Minister Dr Hubert Minnis tabled the inaugural Annual Report of the Prime Minister's Delivery Unit in the House of Assembly 19 June, during his contribution to the 2019/20 Budget debate.
The Annual Report covers the period May 2018 to April 2019 and provides details on the background of the Delivery Unit, as well the methodology employed, specific baseline information, key performance indicators and targets of each of the identified priority areas.

It also highlights the progress of each of the priority areas, which include education, safety and security, ease of doing business, the Over-the-Hill community, land reform, energy reform, Infrastructure, and the modernisation and digitisation of the public service.
Prime Minister Minnis noted in the Annual Report that he was "pleased that the Delivery Unit's stakeholders have already seen tangible results in most of the identified Key Priority Areas."
"This demonstrates that the support provided by the Delivery Unit has the potential to meaningfully address the systemic challenges that have, for decades, stifled our productivity and efficiency," he said.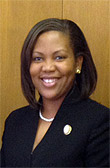 The Prime Minister's Delivery Unit was first launched on 8 May 2018 and is headed by Viana Gardiner (pictured, stock), chief operating officer.
The unit seeks to implement a centre of government approach to performance management within the public service, and data-driven, evidence-based decision making.
Read/download a copy of the Annual Report here. PMDU.GOV.BS