Source:
Date:
Updated:
Author:
TheBahamasInvestor.com
Friday, April 21, 2017
Friday, April 21, 2017
Tosheena Robinson-Blair
Six years after its groundbreaking, the $3.5bn megaresort Baha Mar emerged from receivership to open today and usher in "a new era in hospitality" for this small island nation.
It was a proud and exciting moment for the 1,000-acre megaresort, which officially broke ground on February 11, 2011, under developer Sarkis Izmirlian, the son of billionaire Dikran Izmirlian.
Touted as an economic driver for The Bahamas, the road to completion was filled with numerous ups, downs, and detours. Among them were three missed opening dates (one in 2014 and two in 2015), a Chapter 11 bankruptcy filing in the US, liquidation, massive lay-offs and a change in ownership.

"I have no doubt the future of our tourism industry is bolstered today by this pivotal event and that the industry will continue to gain enduring strength and stability," said Prime Minister Perry Christie in his keynote address at a 45-minute ribbon cutting ceremony held at the resort complex porte-cochere.
"Baha Mar's opening is not a mirage. It is not some ostentatious effort of misleading and misrepresenting. It is real and it is the most significant economic development event ever to occur in a single phase within The Bahamas and the entire Caribbean region."
Critical to the economic viability of the nation, Baha Mar is expected to generate over $700 million in direct annual economic output and $1.1bn in direct and induced output, according to the Prime Minister. Additionally, it is expected to contribute over $45 million in taxes annually from resort operations and national insurance contributions.
"The story of the evolution and the impact of Baha Mar will go down in Bahamian history as a watershed event that may well be studied by Bahamians and Caribbean scholars and economist for years to come," said Christie. "It is that kind of history and that kind of development."
A magnificent edifice, the resort is the culmination of millions of man-hours, 3 million sq. ft of construction, 6,000 tons of structural steel, 260,000 yards of concrete, 400,000 tons of sand and stone and 500,000 sq. ft of glass.
"Welcome to a new era of hospitality in The Bahamas," said Graeme Davis, president of Baha Mar, and a hotelier with over 30 years of Caribbean and global operations experience.
"This magnificent structure is a testament of the vision conceived over 14 years ago by Sarkis Izmirlian, the strength and the spirit of the Bahamian people."
He added: "Baha Mar is the result of what happens when great minds, great hearts and human determination come together, mountains can be moved, structures rise from the ground and transformation happens to the more than 1,700 employees to date."
Davis thanked the resort's dedicated employees, the destination's "ambassadors," as he referred to the Bahamian people and the government of The Bahamas for its partnership in saving the project from an "uncertain fate."
Primary financiers the Exim Bank of China and China Construction America were also among those he thanked.
"Baha Mar is reshaping and redefining the next generation of resorts in the world. Its uniqueness is that we are one destination featuring three world-class hotel brands," said Davis.
Baha Mar unveiled today the world's newest Grand Hyatt, what Davis calls their "flagship resort worldwide". Aside from that 1,800 hotel rooms, other facilities officially opened include the 200,000 sq. ft convention centre operated by Grand Hyatt; the 95,000 sq. ft casino operated by Sky Warrior; and the 18-hole Jack Nicklaus golf course.
Over the ensuing months, they are to be joined by other major brands, SLS and Rosewood, and facilities including a collection of premier restaurants and bars along with a slew of top designer brand retail stores.
"Baha Mar emerges today as the only integrated resort destination in the world delivering such diverse selections of exceptional experiences that are inspired by the warmth of its culture, people and magnificent beauty of The Bahamas," said Davis, who anticipates welcoming hundreds of thousands of guests to the property.
"The Baha Mar dream and the Bahamian dream are intertwined and today we illustrate that dreams indeed become reality."
According to Christie, the megaresort is designed to appeal to "a broader demographic than existing Bahamian resorts". He feels Baha Mar has the network and the distribution channel to deliver the necessary guests required to fill-up its rooms.
When the trio of hotels open in the coming months, the megaresort is expected to directly employ around 5,000 workers.
"Baha Mar's first-phase opening ushers in a new era in our tourism industry as it will consolidate over 40 per cent of Nassau and Paradise Island's total room inventory in the upscale and luxury product category. This shifts this destination's international lodging profile towards a more high-end, upscale market with added international brands. This is critical not only to improving brand recognition and experience but also to increasing airlift capacity and delivery of sustainable up-market ADR [average daily rate] for the destination," said Christie.
At full opening Baha Mar is expected to generate an additional 315,000 air passengers seats annually, an increase of 19 per cent over 2015 record of arrivals.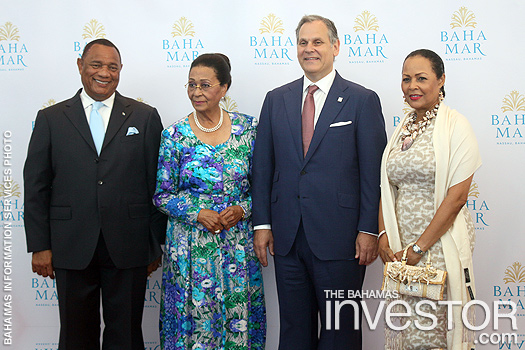 Pictured: (from left) Prime Minister Perry Christie, Governor General Dame Marguerite Pindling, Baha Mar president Graeme Davis, and Bernadette Christie, wife of PM Christie. (Bahamas Information Services photo)
tblair@dupuch.com