Source:
Date:
Updated:
Author:
TheBahamasInvestor.com
Friday, April 21, 2017
Friday, April 21, 2017
Catherine Morris
Acknowledging that it has been "a long journey", Baha Mar president Graeme Davis officially opened the $3.5bn megaresort this morning and said several hundred rooms are already filled, with more to come thanks to "tremendous pent-up demand".
The first phase of the development's staggered opening saw the 1,800-room Grand Hyatt open its doors to the public, as well as the 100,000 sq ft casino, 30,000 ft luxury spa and restaurant and retail offerings.

The Baha Mar website will begin taking online reservations from the general public May 29.
"We want to make sure we open thoughtfully [and] that we create an exceptional experience," Davis said. "This is the perfect way to open a property of this magnitude."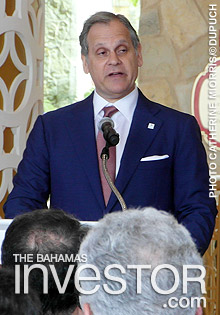 Pictured: Baha Mar president Graeme Davis delivers remarks at the official opening of the resort on Cable Beach April 21. (Photo Catherine Morris/©Dupuch Publications)
After years of stalled development and a change in ownership, Davis dismissed claims that the resort brand had been tarnished, saying: "I believe that in the travel industry there is a short-term memory with those experiences. It is very unfortunate that in the past Baha Mar has affected people's vacation plans. We look forward to restoring the trust and integrity of Baha Mar with our travel partners, the travelling public and future guests."
"The absolutely unique experience of this integrated resort and the breathtaking beauty of The Bahamas is a combination that will create the demand for guests to come back. We have all the confidence we will be successful."
The resort currently employs around 1,600 workers, with plans to increase to 6,000 in the next few years. Davis paid tribute to these employees, noting their dedication in the build-up to today's official opening. "Seeing the Baha Mar family come together this week has been humbling and inspiring," he said.
"It is important to inspire from within. To create incredible experiences, opportunities and training, and most importantly the respect, trust, leadership and support that every associate deserves. When we have that combination we know we have a winning team. Baha Mar is all about empowering Bahamians."
Following today's opening, Davis said the resort is now looking ahead to its next phases, which will include luxury hotel brand SLS, adding landscaping features and more restaurants and opening the Rosewood hotel in Spring 2018.
"It is a long-term vision," he said. "There is much more to come."
cmorris@dupuch.com