Sterling Global Financial, an integrated banking and financial services provider with operations in The Bahamas and the Cayman Islands, has revealed that one of its funds has provided bridge financing for the land assembly of a major redevelopment that will dramatically transform a South Boston community.
Called Washington Village, the project is one of the largest undertaken by Sterling's Sterling Mortgage Income Fund, formerly New Providence Income Fund.

The site is approximately five acres of mostly low rise, industrial and commercial properties that will be redeveloped with eight buildings ranging in height from 3-storey to 21-storey towers.
Washington Village will house 656 residential units catering to families of varying sizes from single young professionals to multi-generation families. It will total 975,000 sq ft, including 104,000 square of retail space and 648 parking spaces.
Restaurants, cafes, outdoor dining, well-landscaped promenades, plazas and green spaces are expected to add to its appeal. Retail space will include a grocery store, pharmacy and other essential services.
Washington Village is the latest project financed by funds administered by Sterling Global Financial. Among its several concurrent activities are the financing of the new Marriott Courtyard in downtown Nassau, The Bahamas and its investment as an equity partner in Thirty Six, a $30-million luxury condominium project on Paradise Island which broke ground last month.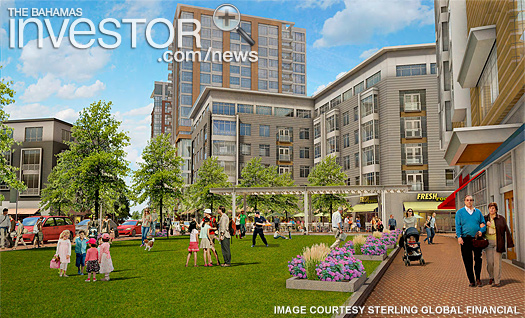 Pictured: Artist's rendering of Washington Village. (Image courtesy Sterling Global Financial)