Romora Bay Resort & Marina on Harbour Island is experiencing higher occupancy rates and greater visitor satisfaction, according to the resort.
The resort has hit 100 per cent occupancy several times this year.
"Revenue was up 20 per cent last year and this year it's 30 per cent," says Romora Bay's general manager, Joe Dargavage.

"Harbour Island seems to have a mystique all its own, but in some ways that has been created by the concentration of imported French or Italian chefs in such a small destination known for its beaches and its high-end cuisine. We decided to try something a little different and went from a 4-star chef from abroad to a Bahamian who everyone says is 5-star worthy."
Dargavage also spearheaded the creation of the Harbour island Hotel Association, serves as vice chairman of the Marina Operators of The Bahamas and is a founding member of the Bahamas Superyacht Association.
Promoting Bahamians has also been on the resort manager's agenda. The marina director, restaurant manager, front office manager and director of operations at Romora Bay are all Bahamian. Seventy per cent of the staff received raises. The result, says Dargavage, high staff morale, which then results in good customer relations and a better bottom line.
"We recently created two new concierge and crew lounges, added hi-speed Internet in the marina, and we totally redesigned our famous Sunsets restaurant," he says. "When we did that, we appointed an all Bahamian staff."
The resort is on nearly six acres of prime harbour front property and has 18 guest rooms and a superyacht marina.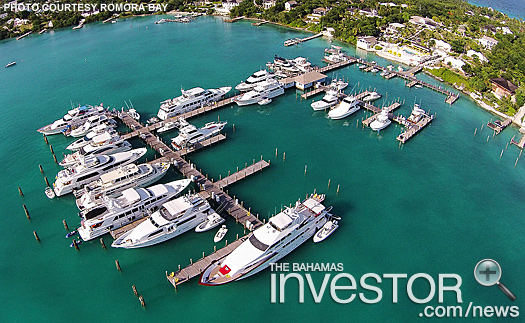 Pictured: Romora Bay, on nearly six acres of prime harbour front property, Harbour Island. (Photo courtesy Romora Bay)