Effective July 1, US-bound passengers travelling on B1 or B2 visas with electronic passports (e-passports) can use the Automated Passport Control (APC) kiosks at Lynden Pindling International Airport (LPIA).
This expanded clearance now allows many Bahamian passengers to use the self-service kiosks in the US Customs and Border Protection hall.

An estimated 208,000 passengers will move through the US Customs & Border Protection hall during the remaining summer months. Vernice Walkine, president and CEO at Nassau Airport Development Company (NAD), is pleased to expand APC kiosk use especially to the local population. She credits the technology with reducing wait-times for US-bound passengers by as much as 80 per cent.
"Since we introduced the self-service kiosks in February 2015, processing times have been dramatically reduced. We are pleased to have this benefit extended to persons with B1 and B2 visas and that includes many members of our local community who have been asking for the ability to use the new technology," Walkine said.
"Our Operations and IT teams have worked closely with manufacturer BorderXpress to test the machines for additional users. We anticipate an immediate positive impact on our operations, particularly during this busy travel season. Bahamians meeting the requirements will now have the added convenience of processing through US Customs within minutes."
Up to this point, only US and Canadian passport holders, US Lawful Permanent Residents and travellers with an approved Electronic System for Travel Authorization were eligible to use the kiosks at LPIA.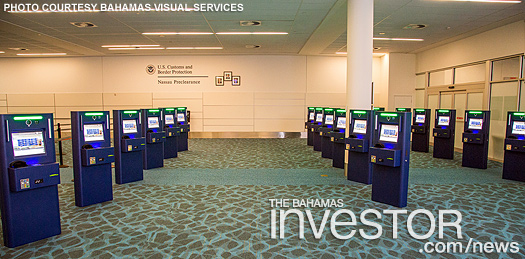 (Photos courtesy Bahamas Visual Services)