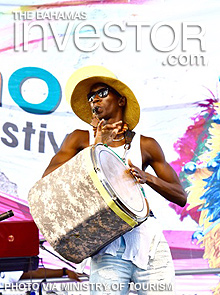 Hundreds of residents and tourists have been gathering to watch the music competition between A and B Junkanoo Groups, which are all executing the theme "It's Better In The Bahamas" over the next few weeks.
One after the other, the Junkanoo groups rushed through the large energetic crowd delivering the rhythmic sounds of cowbells, goat skin drums, brass instruments and whistles.
During Saturday's daytime events at the JSF village, visitors and residents also participated in fun competitions like pineapple, watermelon, and corn eating, crab catching, conch cracking contests.
As the sun began to set, guests enjoyed a well organized opening ceremony that included a performance by the Obeah Man, fire dancers; beller and drummer competitions and an exciting Junkanoo water show with a group using jet skis.

Each week the A and B Junkanoo groups will focus on different aspects of the cultural expression. The event runs from noon to midnight.
The remaining weeks' schedule is as follows:
(Saturday, July 16th) Choregraphy/Dance Competition
(Saturday, July 23rd) Costume/Overall Performance
(Saturday, July 30th) – The finale of the Junkanoo Summer Festival. There will be an awards ceremony for the five weeks of competition. Combo/Award Ceremony/ All Bahamian Concert
Junkanoo Summer Festival is occurring nationwide. For more information on JSF on Grand Bahama and the Family Islands, visit Bahamas.com/summerfestivals.