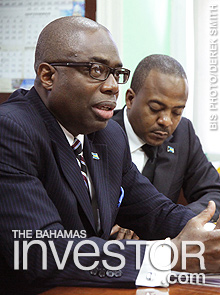 Pictured: Speaker of the House of Assembly Dr. Kendal Major (left) gave details at a press conference last week of the upcoming Regional Commonwealth Parliamentary Conference in Nassau, July 22-30, 2016 at Atlantis Paradise Island. Also pictured is deputy speaker Dion Smith. (BIS Photo/Derek Smith)
The Bahamas Branch of the Commonwealth Parliamentary Association (CPA) is set to host the 41st Regional Conference of The Caribbean, Americas and Atlantic Region, which includes the Commonwealth Women Parliamentarians Conference.
"This year marks 287 years of Parliamentary democracy, 49 years of majority rule and on July 10th, 43 years as a sovereign nation," speaker of The Bahamas House of Assembly Kendal Major said, at a press conference last week at the House of Assembly, announcing the upcoming event.

"I am delighted to serve as Conference Chairman," he added. "Maurice Tynes, chief clerk, will serve as conference coordinator; David Forbes – deputy coordinator and chair of youth parliament; and Anthony Forbes – conference secretariat. Glenys Hanna Martin serves as chair and will serve as host of the Commonwealth Women Parliamentarians Conference."
Major pointed out that the international conference is slated to be held at the Coral Towers, Atlantis Paradise Island, July 22-30, 2016.
The theme of the conference is Modernization: An Essential Element for the Independence of Parliament and the Deepening of Democracy.
"This regional conference will also attract several meetings within this conference," Major said.
The 10th Regional Conference of Commonwealth Women Parliamentarians is to be held July 23.
"The Regional Executive Committee Meeting will be held July 24, the Annual General Meeting on July 27 and the Regional Youth Parliament on July 29," he added.
He announced that a number of topics are slated for discussion in the Women's Conference, inclusive of "Women in Political Leadership: Why Does it Matter?" "Violence: An Impediment to Women's Political Leadership Within the Region" and "Perceptions of the Role of Women in Society and Their Effect on Women's Political Leadership within the Region".
"We are particularly delighted to welcome the secretary general of the Commonwealth Parliamentary Association, Akbar Khan, to be with us and deliver the keynote address at the Plenary Session," said Major. "Khan is the 7th Secretary General of the CPA."