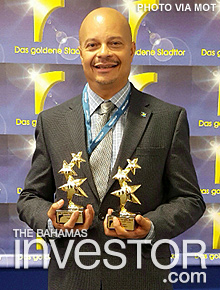 Pictured: Deputy Director General for Tourism Tommy Thompson receiving the international tourism awards on behalf of The Bahamas. (Photo courtesy Ministry of Tourism)
The Bahamas has received second place prizes at two award shows in Berlin, Germany as officials continue to drive the message that "It's better in The Bahamas."
Recently, Bahamas Ministry of Tourism executives traveled to Berlin to attend the ITB Berlin Trade Show – the world's largest travel trade show – and the Golden City Gate Awards.
The annual awards are coveted international tourism awards, which highlight various destinations.
During the awards, The Bahamas placed second for Voyager – "Funky Nassau" in the category of Music Clips and Music Voyager "Heartbeats of The Bahamas" in the category of TV and Magazine programmes.

"We are happy to receive these awards for our destination. There are hundreds of countries who vie for them, so to receive these international tourism awards is a wonderful achievement for The Islands Of The Bahamas. The two categories we were showcased in featured the culture and music of The Bahamas, and in this particular television show, we have been getting a buzz about the uniqueness of our islands and our music," said Deputy Director General for Tourism Tommy Thompson who received the awards on behalf of The Bahamas.
Music Voyager, a 30-minute travel and lifestyle TV series took an in-depth look into Bahamian culture and highlighted indigenous Bahamian music. Millions of viewers in some 120 countries watched the Music Voyager Bahamas series, which began broadcasting in 2015.
"We found that the heartbeat of The Bahamas is its people, a very honest spirit, with no frills, refined, refreshingly polite and genuinely hospitable. Everywhere we went it was like coming home, like you were an old friend. We've filmed a lot of countries all over the world, but with The Bahamas, you need to experience it to believe it. It will speak to your senses directly and spiritually. The Bahamian heartbeat is warm, deep and reliable, step out of those beautiful resorts and go out and resonate with the people," said CEO of Music Voyager, Farook Singh.
But that's not all.
At The Caribbean Tourism Organisation's Media Awards, The Bahamas was featured by two international journalists Winfried Schumacher, who won 1st place and Corinna Streng, who won 3rd place, for capturing the beauty of The Bahamas through their visits to Exuma and experiences with the swimming pigs.
Director General of the Bahamas Ministry of Tourism Joy Jibrilu said: "This shows that The Bahamas has a special place in the hearts of not only Germany but the world. We have a natural beauty and the world is certainly marking the manner of our bearings."
"To know that we are being recognized for our music means that people are starting to take great notice of our culture. I want to thank all the journalists of Music Voyager and the journalists who experienced the famous swimming pigs. They have opened a window for the world to see The Bahamas. All Bahamians should be proud of these awards."