Works on the Panama Canal Expansion began on September 2007 at a total cost of $5.2 billion.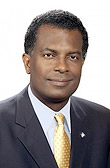 Mitchell (pictured) said that an invitation was extended by the government of Panama to all the countries in the hemisphere to attend this important commercial venture which has important implications for the Freeport Container Port and the business which flows through it.
He said that the larger ships which will be able to pass through the canal, will potentially bring more goods through The Bahamas, particularly through Freeport.
"In addition," he said, "the government of Panama wanted all CARICOM countries to be represented at the commissioning because many Caribbean nationals including Bahamians helped to build the original canal back in 1913."