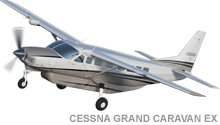 Fort Lauderdale, FL (PRWEB) January 06, 2015 – Fort Lauderdale, FL: Tropic Ocean Airways, a local Fort Lauderdale based airline, flew their maiden voyage with nine (9) guests on their new wheeled 2014 Cessna Grand Caravan EX to Cat Cay, Bahamas. The company has announced they are expanding their existing seaplane operation and will begin offering regular land-based services in January 2015. The airline fully provides "door to door" and "door to dock" services to the Florida-Caribbean market.

Ryan Custureri, General Manager, Tropic Ocean Airways says: "There have been an increasing number of requests for more direct aviation services due to the long delays and hassles when flying commercially. We are very excited to respond our guest's demands and offer an unparalleled service with the same high quality safety standards and procedures in place."
The maiden voyage marks a milestone for Tropic Ocean Airways as they are now capable of reaching the majority of public and private destinations in the Bahamas and Florida with their wheeled and amphibious aircraft. The airline has a first-class reputation flying private seaplane charters, and will continue adding more aircraft to service popular routes connecting major cities in Florida in addition to the Bahamas service. According to Tropic, they are redefining private aviation with their first-class experience.
In December 2014, Tropic purchased two (2) brand-new 2014 Cessna 208 Grand Caravan EX's direct from Cessna; an amphibian (land and water based) and their new flagship wheeled Caravan EX (runway to runway). The Cessna aircraft offer luxurious interiors comparable to most private jets and can seat up to eight (8) guests on the seaplanes, and up to nine (9) guests in the wheeled aircraft.
Many travelers and private aviation enthusiasts are familiar with the Cessna Caravan; however, the 2014 Cessna Caravan EX's are a more powerful, faster, and luxurious aircraft than existing caravans flying in the Florida and Caribbean market. As a guest of Tropic exclaimed, "these planes still have their new car [aircraft] smell to them." Backed by Tropic's in house maintenance staff, safety is the company's number one priority.
Tropic's fleet provides the perfect alternative for discerning travelers, resorts, and the travel industry. "These planes are the first of many to come as we [Tropic] continue to expand our operations, routes, and fleet to meet our guest's demands providing consistent first-class air transportation," said Rob Ceravolo, Tropic Ocean Airways CEO.
Tropic Ocean Airways consistently exhibits the highest levels of customer service and commitment to safety. Founded in 2009 by US Navy TOPGUN Graduate Rob Ceravolo, Tropic Ocean Airways Inc is an FAA-certified air carrier specializing in private terminal service throughout Florida and the Caribbean. The fleet of late-model Cessna Amphibians are handled by highly experienced military aviators and seaplane instructors to provide world-class services to private travelers in the aviation and yachting industry. For more information please visit our website at www.flytropic.com.
For more information on the 2014 Cessna Grand Caravan EX's, visit:cessna.txtav.com