Source:
Date:
Updated:

The New York Times
Friday, January 24, 2014
Friday, January 24, 2014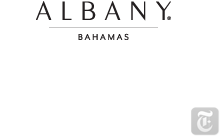 JAN. 23, 2014 (New York Times) — For several years, wealthy New Yorkers, even those relatively unscathed by the financial crisis, seemed to put their second-home dreams on hold. But as the real estate market in the city has strengthened, many of these high-end buyers have started shopping for beachfront retreats again.
The Albany, a luxury resort in The Bahamas with boldface names like Tiger Woods and Ernie Els for investors, hopes to capitalize on this latest trend. And for a direct link between New York and this development, Howard M. Lorber, the chairman of Douglas Elliman and the chief executive of the investment firm New Valley, is developing a midrise condominium there. This is the first time that Mr. Lorber, who is based in New York, is developing in The Bahamas and also the first time Douglas Elliman is marketing there.
"This is New York in The Bahamas," said Horacio LeDon, a Douglas Elliman broker who is heading up the marketing effort for Honeycomb, the condo being developed by Mr. Lorber and the Tavistock Group, Albany's developer.
This is an excerpt from The New York Times as it appeared on January 24, 2014. For updates or to read the current version of this post in its entirety, please click here.

Continue reading this post >