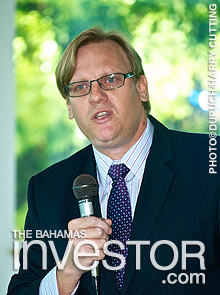 Pictured: The Honorable Ryan Pinder, Minister of Financial Services, The Bahamas, speaks at the 2nd Annual Arbitration and Investment Forum held at UBS headquarters on E Bay St Nassau Bahamas. (Photo©Dupuch/Harry Cutting)
In its push to make The Bahamas a leading arbitration hub, the Ministry of Financial Services is taking a strategic approach by developing a strong domestic framework and playing to its strengths in niche industries.
Speaking at the second annual Arbitration and Investment Forum yesterday, Minister for Financial Services Ryan Pinder said The Bahamas could become a regional and international hub for arbitrators by "leveraging the talent of our people."
"We are looking to create a centre based around expertise and industry," he said "You have to focus on what you do well. We are the pre-eminent trust jurisdiction in the world and we have some of the best maritime lawyers in the world. We go after what we do best."

The Bahamas has the fourth largest shipping registry in the world and the Minister hopes the maritime sector, which has long embraced arbitration as a means of settling disputes, will help the country establish a reputation as a leading hub.
"You have a client base that is there and is accustomed to arbitration. You can utilize that to grow your centre," he said.
However, during a panel discussion at the event, it was suggested that in order to compete internationally, The Bahamas would first need to enlist the support of its legal professionals and business community.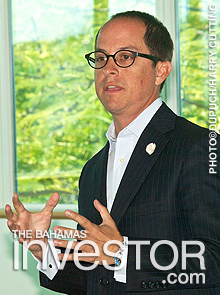 Pictured: Mr Richard Lorenzo, Partner, Hogan Lovells Miami Law Office (Florida, USA), speaks at the 2nd Annual Arbitration and Investment Forum held at UBS headquarters. (Photo©Dupuch/Harry Cutting)
Richard Lorenzo, managing partner at the Miami branch of law firm Hogan Lovells, said: "The Bahamas can surely be a regional hub, but The Bahamas has to believe in arbitration. One way that other jurisdictions have begun that process is beginning locally, creating a mechanism where local arbitration can be successful."
"It is a gradual process and it takes time."
The Bahamas became a member of the Chartered Institute of Arbitrators in 2010 and has since launched several training programmes to help professionals in the country become internationally accredited arbitrators.
Minister Pinder says his ministry wants to encourage lawyers to get involved and has been in discussions with The College of The Bahamas to make young lawyers aware of the available opportunities.
The government has also met with the Bahamas Chamber of Commerce and Employers Confederation (BCCEC) to educate the local business community about the importance of alternative dispute resolution, which is often less time consuming and expensive than litigation.
"We look to work hand in hand with the BCCEC, not only to build capacity, but also to sell it domestically," said the Minister. "When you have your domestic, commercial industry accepting and onboard with arbitration as a concept then you can take it to different levels."
"You have to build that groundswell of acceptance within the community."
cmorris@dupuch.com