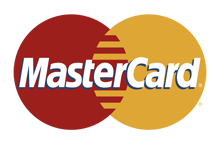 The Bahamian-owned and operated Commonwealth Bank (CB) announced Monday that it has teamed up its SunCard credit card with globally recognized MasterCard, offering increased benefits to its local customer base.
"It is a testament to the strength and stability of Commonwealth Bank and the reputation of SunCard that MasterCard has come on board for this partnership which is actually a triangle of respected brands–Commonwealth Bank, SunCard and MasterCard," said Ian Jennings, CB's president.

Effective June 16, the new co-branded SunCard MasterCard will be available to Commonwealth Bank customers.
Commonwealth Bank first launched their credit card, SunCard, in 1986, creating the first Bahamian-dollar credit card.
At that time, one of its most valuable benefits to customers was its acceptance by the government as a means of payment on customs duties, said Mavis Burrows, CB's senior vice president in operations.
Local travellers bringing foreign purchases into the country were able to charge the duties attached to foreign imports to their SunCard.
"It was also widely used by customs brokers and as it became an increasingly integral part of the retail scene. SunCard signs went up on more and more shop doors and professional office countertops," Burrows said.
For the past six years, in particular, the local credit card usage has increased, with many Bahamians using it as a means of managing monthly household expenditures.
"At the end of the month you are able to track your expenses better," explained Neil Strachan, project leader on the SunCard/MasterCard project. "We see that happening more frequently since 2008, there has been very little impact on our volumes since 2008."
In 2003, the bank issued the first Commonwealth Bank MasterCard, which is accepted at MasterCard merchants and ATMs worldwide.
Current SunCard holders will be issued the new co-branded card before June 16, with applications for new cards being processed after that date. The new card will expand SunCard privileges to everywhere MasterCard is accepted in The Bahamas, allowing cardholders to exercise the benefits of membership and enjoy the rewards for MasterCard members, all with a Bahamian dollar card.
Under the co-branding, customers will be also able to go online to check card activity, track purchases and pay the bill. Around the clock support will be available to customers who will be able to use their SunCard MasterCard at any Commonwealth Bank ATM or local MasterCard ATM for Bahamian dollar cash withdrawals.
Commonwealth Bank is one of the most successful banks in The Bahamas. In 2013, profits totaled $50.8 million, compared to $35.7 million in 2012, an improvement of 42.1 per cent. It was the third highest profit in the bank's history.
Commonwealth Bank ended 2013 with total assets at $1.43 billion, relatively unchanged from 2012. Total assets at March 31, 2014 were $1.46 billion, according to Patrick McFall, the banks chief financial officer.
"Total profit improved primarily due to improved delinquency and nonperforming loan ratios," he told members of the media Monday.
Commonwealth Bank's nonperforming loan ratio of 4.07 per cent continues to significantly outperform the industry average nonperforming loans of 15.9 per cent as of March 2014, as reported by The Central Bank of The Bahamas.
"Our results this past year were very impressive when one considers the difficult economic environment and increased competition that we are exposed to," said Jennings at Monday's card launch.
"Commonwealth Bank is not only out in front of all the clearing banks in The Bahamas including those with vast regional resources and assets, but we also continue to share our success with our shareholders."
The bank has paid out $29.5 million in dividends to some 6,000 local shareholders.
"Since 2008 the economy has been very stilted, but we've been able to overcome stagnant performance. But we have to make sure we can position ourselves for growth when it does come, because no recession lasts forever," said Jennings.
"Throughout our history we have never had an easy year, but we've always been able to overcome the challenges and certainly, as we look forward to 2014, it's going to continue to be that way."
The bank says its "cautious" about its 2014 prospects as to date there has only been small improvement in the economy. The financial institution is also concerned about the financial impact of a proposed value added tax (VAT).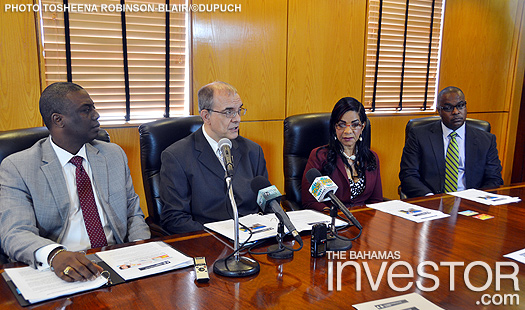 Pictured: (from left) Commonwealth Bank's CFO Patrick McFall; President Ian Jennings; Mavis Burrows, senior vice president of operations and Neil Strachan, project leader on the SunCard/MasterCard initiative. (Photo by Tosheena Robinson-Blair/©Dupuch)
tblair@dupuch.com