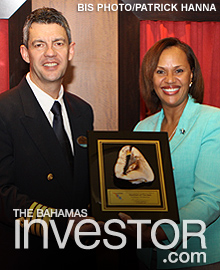 Pictured: Director General of Tourism Joy Jibrilu (right) presents the Ship's Master Captain, Srecko (Felix) Ban, with a plaque during a ceremony to commemorate the inaugural call of the Quantum of the Seas on Nassau, November 27, 2014. (BIS Photo/Patrick Hanna)
The Bahamas welcomed the Royal Caribbean Cruise Line's Quantum of the Seas at the Inaugural Call on Nassau at Prince George Dock November 27, 2014.
On hand to greet the luxury liner were director general of tourism Joy Jibrilu, officials of the Port Department, Bahamas Customs Department, Immigration Department, Port Agent at United Shipping Andrew Malone and other officials.
A plaque exchange ceremony took place onboard the vessel, during which the Jibrilu underscored the importance of the ship's inaugural visit to Nassau.

"Royal Caribbean has been docking at our shores for 44 years, beginning in 1970 with the Song of Norway, just six years following the establishment of tourism as the primary industry for economic development within The Bahamas," she said.
"As time progressed, The Bahamas became the model and leader in the Western Hemisphere, and Royal Caribbean has stayed with us throughout these years."
The Quantum-class ship is the second largest class of passenger ships, after Royal Caribbean International's Oasis of the Seas. It has a 16-passenger-accessible decks, eight of which feature balcony staterooms overlooking the ocean. The ship can accommodate 4,180 passengers.
Quantum of the Seas is also equipped with technology that allows passengers to plan their vacation before leaving home, customizing the voyage experience and organizing calendars using an onboard self-service platform or a downloadable app.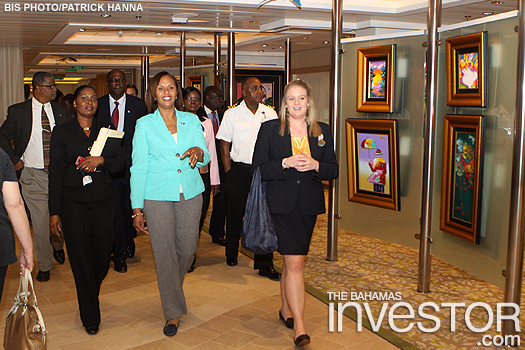 Tourism officials and other Government officials tour the Quantum of the Seas during a ceremony to commemorate its inaugural call on Nassau, November 27. (BIS Photo/Patrick Hanna)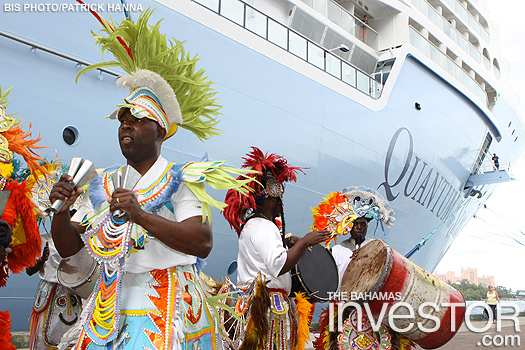 A Junkanoo group performed during a ceremony to commemorate the inaugural call of the Quantum of the Seas on Nassau, November 27. (BIS Photo/Patrick Hanna)