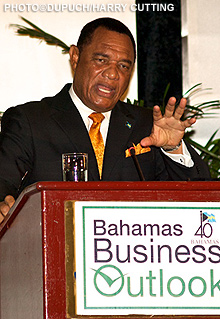 Pictured: Prime Minister Perry Christie speaking at the 22nd Annual Bahamas Business Outlook event. The 23rd Annual Bahamas Business Outlook event is taking place today at the newly branded Meliá resort. (Photo©Dupuch Publications/Harry Cutting)
The government will create a National Economic Council to help guide its economic policy, Prime Minister Perry Christie announced today.
Calling the move "an important measure to maximize economic growth," the Prime Minister said he would begin appointing senior economists to the council this month.
Council members will "keep the economy under constant review, advise the government on ways to grow and sustain the economy, and provide better economic opportunities for Bahamians," he said.
"We have to manage our economy carefully to guarantee our legacy of fiscal prudence and economic growth."

Speaking at the Bahamas Business Outlook conference in Nassau this morning, the Prime Minister indicated that he was optimistic going into 2014 and expected to see growth in the country's main industries of tourism and financial services.
"We look forward to a fruitful and empowering 2014," he told the audience. "The Bahamas is poised for sustained economic growth."
He said the year would see "comprehensive reform" in various areas including government revenue collection, the energy sector and government procurement.
He also highlighted the economic impact of private sector developments coming onstream in 2014, such as the $3.5-billion Baha Mar mega-resort, the next phase of Albany and $14 million worth of upgrades to facilities at Atlantis, Paradise Island.
The Prime Minister said these projects would not only benefit the country's economic and tourism product, but also encourage further foreign direct investment (FDI) by signalling to potential investors that The Bahamas is entering a new era of growth.
"The people who are investing in The Bahamas have a new sense that things are happening; that it is a safe and secure investment for their money," he said.
The one-day Bahamas Business Outlook conference was held at the Melia resort on Cable Beach. Additional speakers on the agenda included Minister of Environment & Housing Kendred Dorsett and managing partner at Ernst & Young Michele Thompson.
cmorris@dupuch.com