Prime Minister Perry Christie was in Grand Bahama November 10 for the opening of the Global Leadership Forum, an event organized by Dr Myles Munroe, who died in plane accident at the weekend.
The Prime Minister joined in paying tribute to the event founder and host.
The conference runs through November 12. The featured speaker at the three-day event is ambassador Andrew Young, former Mayor of Atlanta and UN ambassador, civil rights leader and an ordained pastor in the US.
Prime Minister Perry Christie addresses the Global Leadership Forum in Freeport, Grand Bahama, November 10. (BIS Photo/Vandyke Hepburn)
Prime Minister Perry Christie leads tributes to Dr Myles Munroe at the Global Leadership Forum in Freeport, Grand Bahama, November 10. (BIS Photo/Vandyke Hepburn)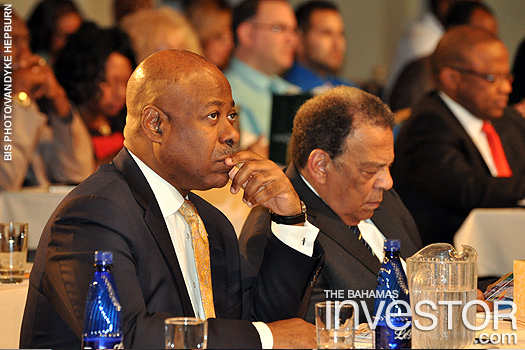 Minister of Tourism Obie Wilchcombe (foreground) and Andrew Young, former Mayor of Atlanta and UN Ambassador, at the Global Leadership Forum in Freeport, Grand Bahama, November 10. (BIS Photo/Vandyke Hepburn)