NEW YORK, July 17, 2014 /PRNewswire/ — Sheldon Good & Company Luxury Real Estate, a New York-based luxury real estate auction firm, is offering a beautiful beachfront property on Long Island in The Bahamas. The six-acre luxury parcel will be sold at auction on August 27th, offering prospective bidders a chance to own a spectacular building site with 383 feet of magnificent pink coral sand beach frontage, complete with its own barrier reef, on which they can create a tropical paradise.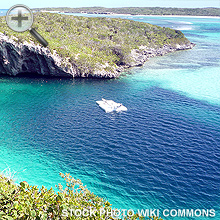 The most scenic hideaway in The Bahamas, with the rich blue Atlantic Ocean on one side and turquoise Caribbean on the other, Long Island provides residents with superb diving, snorkeling and fishing with its spectacular Barrier Reef and famous Dean's Blue Hole (pictured). Featuring high cliffs, rolling hills, peaceful coves, sloping beaches and unexplored coral reefs, Long Island stretches 60 miles long and four miles at its widest point.
"This breathtaking property, located on one of the most scenic beaches in The Bahamas, presents an opportunity to own a piece of paradise and build the home of your dreams," stated John Cuticelli, Chairman at Sheldon Good & Co. "The location and terrain are ideal to create a luxury retreat with spectacular turquoise ocean views."
The property is conveniently located 25 minutes from Deadmans Cay International Airport and 10 minutes from Long Island's capital city of Clarence Town, a charming place with pastel-hued houses and historic churches on a picturesque harbor. Clarence Town offers restaurants, a marina with charter fishing and a grocery store.
Luxury real estate auctions have for many years been the preferred choice with sophisticated buyers and sellers of luxury properties. These properties command the attention often associated with fine art, where generating global attention determines a fair-value market price for the property within a defined period of time.
About Sheldon Good & Co. Luxury Real Estate
Sheldon Good & Co. is a luxury real estate auction firm headquartered in New York City. The company specializes in selling luxury properties with values of at least $5 million and a general value between $10 to $25 million, with the highest properties valued in excess of $50 million. For more information, visit http://www.sheldongood.com/Luxury.