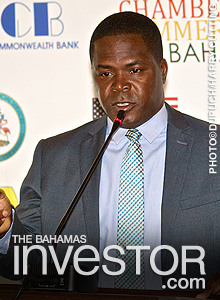 Hon Khaalis Rolle, Minister of State for Investments speaking at the National Conclave of Chambers of Commerce in The Bahamas held last week at SuperClubs Breezes in Nassau. (Photo Harry Cutting/©Dupuch)
The government is one step closer to drawing up its comprehensive National Economic Plan, with the longlist of consultancy firms bidding to spearhead the strategy narrowing to six candidates, according to Minister of State for Investments Khaalis Rolle.
Rolle said 16 firms applied to guide the development of the plan and six have been selected from that list. The government expects to announce the successful bidder soon ahead of appointing a national economic planning commission in May, and releasing the plan for public consultation in June.
"We are very confident in the quality of the firms and that they will be able to do what we need done in this process," he said, addressing delegates at the National Conclave of Chambers of Commerce in The Bahamas last week.

The Minister said The Bahamas' current economic structure was based on an outdated model devised in 1972 and called the new plan "long overdue."
"The Bahamas does not have a modern structure for how we manage the economy," he said. "The National Economic Plan will serve as a guide for sustainable planning and sustainable growth. It is so important that we have a plan that guides our path."
The 25-year plan, which will be rolled out in five-year increments, is designed to address systemic weaknesses, such as lack of integration between government agencies, inefficient use of resources and lack of support for small and medium sized enterprises (SMEs).
In addition, said the Minister, it will encourage investment and boost domestic industry.
The National Conclave took place at Breezes SuperClubs in Nassau and brought together representatives from chambers of commerce throughout the country. Minister Rolle assured these attendees that the plan would take into account the unique nature of the Family Islands and address their needs and challenges, saying: "We will not have a 'one size fits all' template. The Bahamas is not Nassau. The Family Islands are a very important component of this process."
The plan will be a collaborative effort, with both the private and public sector having an input. "It is very important that the private sector and public sector subscribe to this initiative," said Rolle. "It has to be something that we both manage and we both look at as the only way we are going to achieve the objectives we want to in this country."
cmorris@dupuch.com