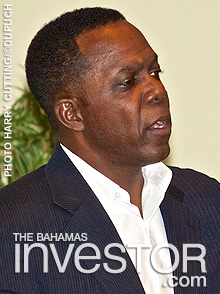 Pictured: Grand Bahama Chamber of Commerce President Barry Malcolm speaking at the Grand Bahama Business Outlook in Freeport, Grand Bahama. (Photo Harry Cutting/©Dupuch)
As the 1955 Hawksbill Creek Agreement (HCA) approaches its 60th anniversary, Grand Bahama Chamber of Commerce President Barry Malcolm has spoken of its importance and the business community's hope that it will continue to bolster Freeport's economy once certain concessions are re-negotiated.
Certain provisions in the landmark agreement expire in 2015. Speaking at the Grand Bahama Business Outlook in Freeport last week, Malcolm said there needed to be a consensus between the government, the Grand Bahama Port Authority (GBPA) and the private sector as key provisions are re-examined.

"We must decide a new framework for delivery on the promise of Freeport," he said.
"It cannot be a process of bartering. It must be a process of collaboration to determine how we can create and give effect to an operating structure for Freeport that enables it to compete successfully against other commercial centres."
Speaking on behalf of Grand Bahama's business community, Malcolm called for a "clear and distinct" policy from government on improving the ease of doing business on Grand Bahama and urged leaders to move quickly on the new HCA terms saying: "When businesses face uncertainty they pull back or they run. Such uncertainty produces a level of business risk that is unacceptable to many businesses."
"We should be about the mission of making Freeport the most investor-friendly business centre on the planet."
"We need a vibrant, thriving, world standard international business centre in our country. [Attracting] international business is the way for us to go. We either jump hard into the fray by 2015 or we fall behind."
The one-day Grand Bahama Business Outlook conference was held at the Grand Lucayan Resort in Freeport. Attendees heard from Minister of Tourism Obie Wilchcombe, Minister for Grand Bahama Michael Darville and vice chairman of GBPA Sarah St George.
cmorris@dupuch.com