BCFA president Philip Simon (left) presents Ambassador Yuan Guisen with the commemorative book of The Bahamas. (BCFA Photo)
Bridging cultural diversity between The Bahamas and China through friendship and harmony, the Bahamas China Friendship Association (BCFA) paid a courtesy call on Yuan Guisen, Ambassador of the People's Republic of China to The Bahamas, January 13, 2014, at his Eastern Road residence.
The BCFA also said farewell to the outgoing counsellor, Zhai Xingfu, and gave him a parting gift to remember The Bahamas.
BCFA presented him with a locally crafted woodcarving of a Bahamian Parrot made from native Madeira trees.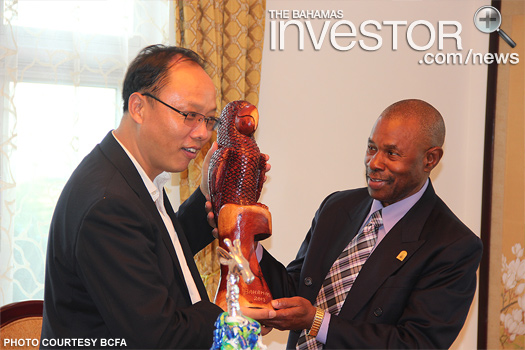 BCFA Vice President Anthony Capron (right) presents outgoing counsellor Zhai Xingfu with a local Madeira carving of an Abaco Parrot. (BCFA Photo)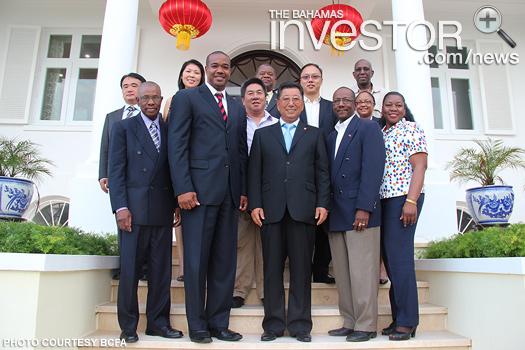 Pictured from left, front row: Anthony Capron, BCFA vice president; Philip Simon, BCFA president; Ambassador Yuan Guisen; Senator Joseph Curry, BCFA president emeritus; Denise Dorsett, BCFA secretary. At back: Lin Xianjiang, incoming counsellor, Embassay of China; Kay Kay Tong, BCFA member; Lloyd Wong, BCFA trustee; Aaron Brice, BCFA assistant treasurer; Zhai Xingfu, outgoing counsellor, Embassy of China; Gena Gibbs, BCFA member; and Kevin Simmons, BCFA trustee. (BCFA Photo)