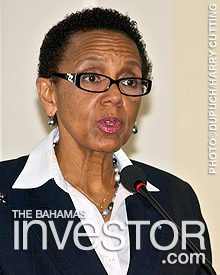 Pictured: Attorney General Sen Allyson Maynard-Gibson speaking at the CIArb seminar held at the British Colonial Hilton today. (Harry Cutting photo/©Dupuch)
The attorney general Allyson Maynard-Gibson has called on The Bahamas' legal and financial services sectors to "build a culture of alternative dispute resolution," saying that the creation of a regional and international arbitration hub in the country would deliver significant economic benefits.
"This is an idea whose time has come for The Bahamas," she said at a seminar hosted by the Bahamas' branch of the Chartered Institute of Arbitrators (CIArb) today. "We should make every effort to open those vistas for The Bahamas. We are cognisant of the benefits of a strong arbitration centre. It has tremendous potential."

Maynard-Gibson said an established arbitration centre would create long-term employment in a number of sectors and deliver trickle down benefits in terms of hotel accommodation and other tourism-based businesses. She also noted that a centre would "build investor confidence" in the jurisdiction.
To further boost confidence, it is important to streamline and improve the efficiency of certain key services, the attorney general added.
"It is important to improve the ease of doing business," she said. "To improve turnaround times [and] decrease the barriers to investment."
As part of these efforts, the Office of the Attorney General will bring three services online in December: incorporation of companies; the immediate issue of certificates of good standing; and issue of notary public certificates. Maynard-Gibson indicated that several other services will also be moved online next year.
Delivering the opening speech at the CIArb seminar, held at the British Colonial Hilton, the attorney general said that the government, and her department in particular, is firmly committed to doing what is necessary to create an arbitration hub in The Bahamas and ended her address saying: "I challenge you to emerge from this conference with a vision and a roadmap for The Bahamas as an international arbitration centre."
cmorris@dupuch.com